Pacific Northwest National Laboratory atmospheric chemist now oversees development of ARM value-added products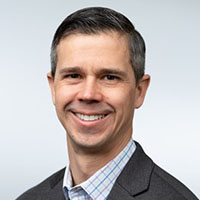 To make its data more accessible to scientists, the Atmospheric Radiation Measurement (ARM) user facility relies on science translators. These researchers lead the development of value-added products (VAPs) from ARM instrument data, working closely with ARM software developers to implement VAPs on ARM computers. Translators also liaise between ARM users and infrastructure staff.
In November 2023, John Shilling, an atmospheric chemist at Pacific Northwest National Laboratory (PNNL) in Washington State, took over as ARM's lead translator.
Shilling replaced Scott Giangrande, a meteorologist at Brookhaven National Laboratory in New York. Giangrande was ARM's lead translator for two years.
The lead translator coordinates VAP development projects across ARM's focus areas (e.g., clouds, aerosols, precipitation). This person leads meetings with the translator team, activities related to ARM's translator vision plan for future product development, and annual planning for translator priorities.
The lead translator also serves on the ARM-Atmospheric System Research (ASR) Coordination Team (AACT), representing the translator team in planning the annual Joint ARM User Facility/ASR Principal Investigators Meeting.
About Giangrande
Giangrande has earned his stripes on the translator team, having joined in 2016. He has shepherded several cloud and precipitation science products, including the widely used Active Remote Sensing of CLouds (ARSCL) suite and the Laser and Video Disdrometer Quantities products (LDQUANTS and VDISQUANTS).
He also recently served as the translator point of contact for VAPs from the Cold-Air Outbreaks in the Marine Boundary Layer Experiment (COMBLE), a 2019–2020 ARM field campaign in arctic Norway.
Similarly, he has been active in ARM's Cloud and Precipitation Measurements and Science Group, which seeks to improve the performance and science impact of ARM measurements.
As the lead translator, Giangrande built on the success of his predecessor, Shaocheng Xie of Lawrence Livermore National Laboratory in California, in strengthening ARM's outreach to the modeling community. He recently led the group's translator plan, a coordinated vision for how translators prioritize their activities over the next three years in response to ARM's Decadal Vision, and their plans to improve ARM products, user outreach, and data/code accessibility.
Giangrande says of his tenure: "I've been fortunate to lead ARM's translator activities, supported by ARM's wealth of talent, unique instrumentation, and willingness to push emerging technologies. The group will be in great hands with Dr. Shilling, who exemplifies what translators can accomplish in pushing aerosol products to the next level."
Although scaling back his translator responsibilities, Giangrande will continue to serve as the cloud processes translator and on the site science team for ARM's upcoming long-term mobile deployment to the Bankhead National Forest (BNF) in northern Alabama.
He is the convective clouds topical lead for the anticipated five-year deployment, which is scheduled to start operations in early 2024. Recently, the site science team published its science plan for research themes, instruments, and collaborations.
"This upcoming BNF deployment pushes the boundaries for what can be accomplished by ARM in collaborating with ASR," says Giangrande. "Northern Alabama is highly affected by severe thunderstorms—something we hope to better understand and use to inform model representation.
"This deployment is also set apart by our commitment to regionally important land-atmosphere interactive studies. This includes new tower-based observations in/above the forest canopy to mesh with ARM's atmospheric profiling excellence and other opportunities from surrounding regions."
About Shilling
Related information:
Find ARM translators and their value-added products (VAPs) in the Translators List.
Shilling has worked with ARM for over a decade. He has extensive experience in aerosol chemistry and aerosol microphysical measurements, both in the field and the lab. In his initial work for ARM, he was the principal investigator for mass spectrometers onboard ARM's Gulfstream-159 (G-1) research aircraft during several field campaigns, including studies in California, Oklahoma, and Brazil.
Shilling is responsible for designing, building, and operating PNNL's state-of-the-art environmental chamber, which is used to investigate the chemical and microphysical properties of secondary organic aerosols.
Like Giangrande, Shilling will continue to ensure that ARM develops VAPs to meet scientists' needs. Shilling has been involved in upgrading the Aerosol Optical Depth Best Estimate (AODBE) VAP. He also helped develop a new VAP to calculate kappa, a parameterized representation of aerosol hygroscopicity widely used in climate models, using the cloud condensation nuclei counter and size distribution measurements. Hygroscopicity is the ability of a particle to take up moisture from the environment.
Shilling likewise helped update a VAP that estimates the vertical profile of cloud condensation nuclei. Finally, he developed a VAP that merges size distribution measurements from multiple instruments.
Shilling was the translator point of contact for the 2021–2022 TRacking Aerosol Convection interactions ExpeRiment (TRACER) near Houston, Texas. He will serve in the same role for the BNF deployment.
On his new roles for ARM and the BNF, Shilling says: "I look forward to continuing to develop data products that help ARM's user community advance their science goals. I'm also excited to see the data and science that come out of the BNF deployment. It will be a great opportunity to investigate organic aerosol processes and aerosol-cloud interactions in an environment that the U.S. Department of Energy has not yet explored."
ARM management thanks Giangrande for his tenure as the lead translator, helping to realize ARM's vision for science products, and wishes him well on the BNF deployment. It also welcomes Shilling to his expanded role, knowing ARM's data products are still in safe hands, guided by deep disciplinary expertise and progressive thinking.
# # #
Author: Robert Stafford, Staff Writer, Pacific Northwest National Laboratory
ARM is a DOE Office of Science user facility operated by nine DOE national laboratories.