Nicki Hickmon Steps Up to Replace Jimmy Voyles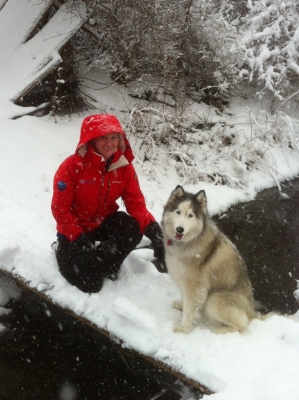 As of October 1, Nicki Hickmon of Argonne National Laboratory (ANL), facility manager of ARM's Southern Great Plains (SGP) atmospheric observatory, succeeded Jimmy Voyles as head of ARM operations. With Voyles' retirement after many years of exemplary service through ARM's foundational and growth phases, ARM's Infrastructure Management Board thought long and hard about who should replace him. Hickmon was the obvious choice to help lead the organization into the next phase focusing on continued improvements to efficient and effective operations.
Made for the Job
Hickmon's education and career trajectory clearly demonstrate that she's tailor-made to face the challenges ahead. She grew up in Laverne, Oklahoma, population 1,344, a rural town at the base of the panhandle three hours west of the SGP. She played basketball and softball in high school before heading off to the University of Oklahoma, where she completed an MS in meteorology in 2004, working on the first storm-scale numerical weather prediction ensembles.
After graduation, Hickmon worked around Norman for various atmospheric science organizations, including the NOAA Warning Decision Training Branch and the Oklahoma Climatological Survey. Along the way, she picked up skills in software development, field meteorology, and then project and program management. Her work always focused on field work and instrumentation: She liked the practical side of science, and being outdoors.
Join ARM—and See the World
Hickmon's work began to take her further afield, vastly broadening her scope and experience, when she signed on with a private contractor doing meteorological work for various government entities including the U.S. Department of Defense, the Federal Aviation Administration, and a U.S. Department of Energy research outfit that she'd heard of, but didn't know much about—ARM. Her introduction was participating in the Storm Peak Lab Cloud Property Validation Experiment (STORMVEX) deployment to Steamboat Springs, Colorado, in 2010 and 2011. Her Siberian Husky, Casey, loved it there and wanted to stay, but when the experiment ended Hickmon moved on to more exotic climes, starting with the tropical western Pacific.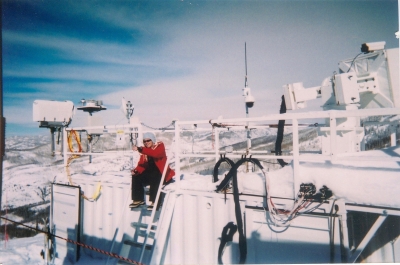 On remote Kwajalein Atoll in the Marshall Islands, Hickmon spent six months as a contractor performing meteorological support for the U.S. Army at its ballistic missile test range. Invoking the "when in Rome" theory, she took up scuba diving, exploring coral reefs and sunken World War II aircraft, even earning an underwater search-and-rescue certificate.
"I love the ocean," Hickmon enthuses. She made lifelong friends among the random characters she met and learned to stretch her capabilities in accepting challenging new project requirements.
With all that under her belt, Hickmon hired on at ANL, where she worked with the second ARM Mobile Facility (AMF2) as— progressively—technician, installer, and manager. As she says, this became "a three-year wild ride!"
Hickmon soon found herself on her way to Gan Island, southernmost of the Maldives in the Indian Ocean (AMIE-GAN, 2011 to 2012). Subsequent deployments took her team on a series of cruises between Los Angeles and Honolulu aboard the research vessel Horizon Spirit, as AMF2 deployed on the MAGIC campaign (2012 to 2013), and then to the boreal forest of Finland (BAECC, 2014).
"It was hard work," Hickmon says. "But I got to visit interesting places and stay long enough to see the local culture and build relationships. It was an exhilarating, invaluable experience," she remembers. "Every deployment is a challenge for both people and instruments."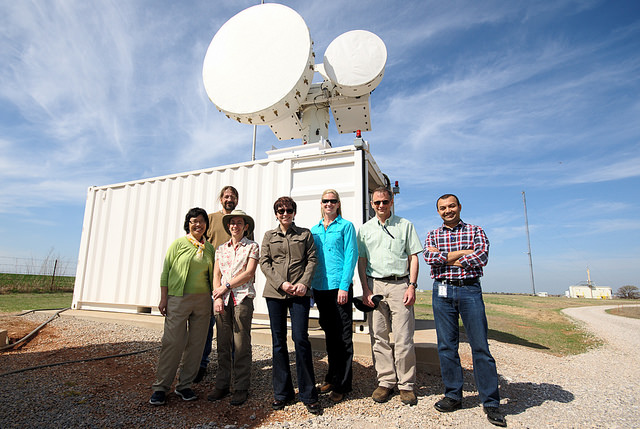 Oklahoma Calling
Hickmon's track record of meeting challenges paid off when she was promoted to facility manager at SGP in 2014.
"It was like going home," she admits. "It's not often that someone from a rural background gets to go back in their professional capacity."
Her cousins were thrilled to see her on the TV news, and her parents met her in Oklahoma City when she flew in or out. At SGP, she focused on improving operations and installing new instrumentation, building rapport with her site team, and hosting visiting researchers.
The Biggest Challenge
Now, as ARM's Associate Director of Operations, Hickmon is excited about her biggest challenge because of the opportunities for improvement in the Facility's efficiency and effectiveness.
"ARM grew with an entrepreneurial spirit," she notes, "but our processes are no longer always the best. I want to help bring smart change through process improvement that gives us flexibility where we choose to have it."
Hickmon wants to help ARM be proactive, not reactive. "ARM was already changing before I got this position," she says, "but I want to make sure it continues to happen where it makes the most sense—especially so it works for the people who live with these processes. ARM is built of people, which means we can engineer ourselves in many ways, but optimizing our operations is difficult because we're so dispersed."
Hickmon believes that making ARM's pieces work together smoothly will be the most satisfying aspect of her new job. She's eager to get started.
Hickmon's aging Husky can no longer pull her around on roller blades, so she now follows Casey on a bike or runs beside her, but they still exercise together. Hickmon also took up golf last year, scoring a hole in one that she admits probably made her a lifer. Knowing change is inevitable, she embraces it.
"You've got to stretch yourself to see what you're really capable of," she observes. "That's how you grow. Looking back, at the start of my career I would never have dreamed of how it's turned out. It's been the same for ARM, as an organization: it's come so far! Now I look forward to all of us working together to see how much further we can take it."
As always, Hickmon's all in, and that's a good thing.
# # #
The ARM Climate Research Facility is a DOE Office of Science user facility. The ARM Facility is operated by nine DOE national laboratories, including Argonne National Laboratory.