The ARM Aerial Facility engineering manager studies the world of clouds and aerosols
This is the second in a series of periodic profiles on scientists who create and apply ARM data.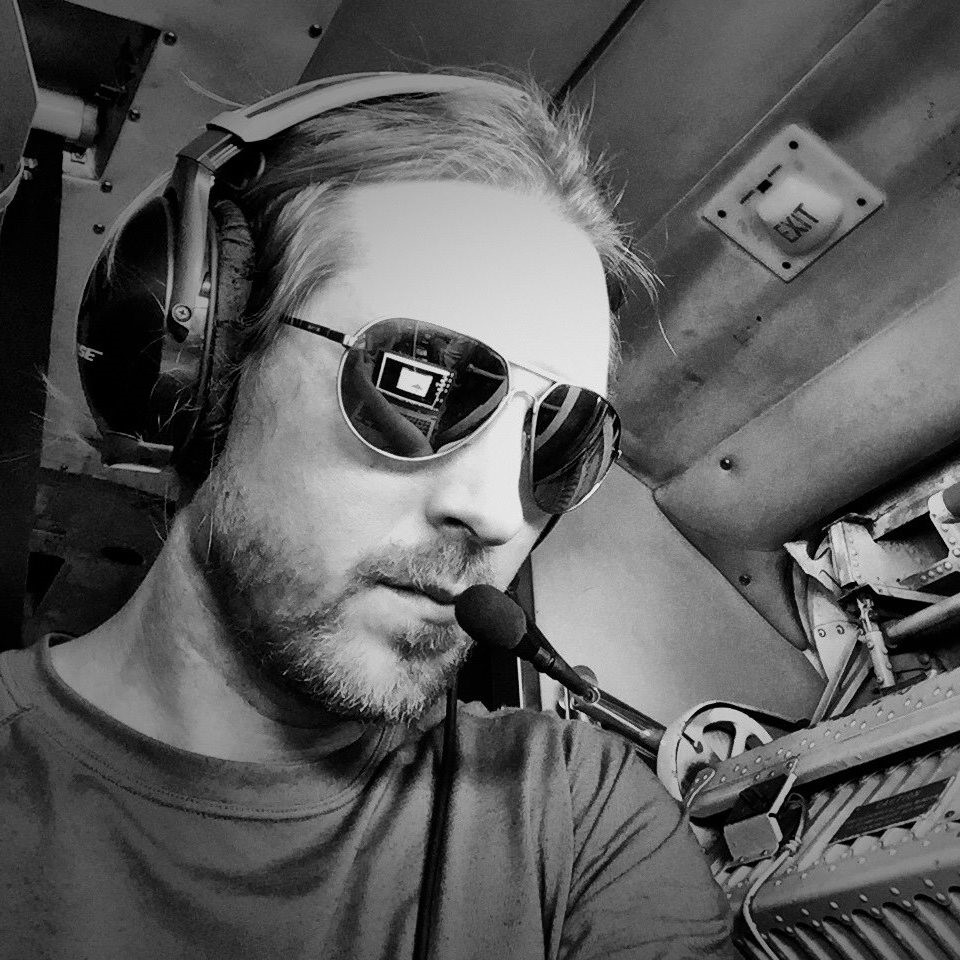 During his career so far, cloud-aerosols researcher Jason Tomlinson has draped a sleepy anaconda around his neck in the Amazon, boarded a research plane to fly over a wildfire, and counted lightning strikes on a remote mountain ridgeline in Argentina. As a second-year graduate student, he repaired aerosol instruments on the fly off the coast of Chile. ("You can't call for parts," says Tomlinson.)
Tall and rangy, he has a touch of Indiana Jones, television science handyman Angus MacGyver, and—perhaps—Ansel Adams. (His creative avocation is photographing nature.)
A native of Michigan, and not quite a decade past a PhD in atmospheric science, Tomlinson is the ARM Aerial Facility (AAF) engineering manager. "ARM" is the U.S. Department of Energy's (DOE) Atmospheric Radiation Measurement (ARM) user facility, which oversees fixed and portable observatories all over the world.
Tomlinson, an atmospheric scientist, is based in southeastern Washington state at Pacific Northwest National Laboratory (PNNL), which is responsible for managing and operating the AAF. He lives with his wife, Michelle Niemeyer, an energy economist, and his two preschool-age children, son Tao and daughter Elise.
"Life has been good," says Tomlinson. "Really good."
The Making of a Logistician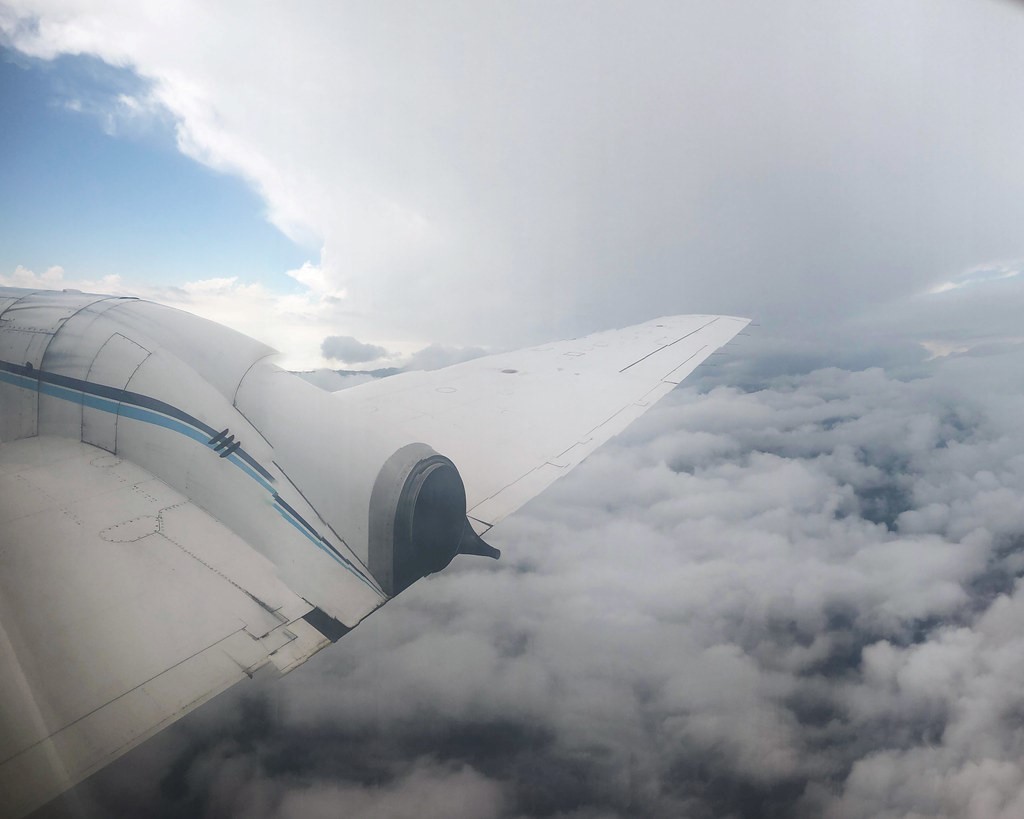 The good life includes the recurring challenges Tomlinson has faced in his ARM career at PNNL. They scare, teach, and invigorate, he says.
In the summer of 2007, Tomlinson had a chance meeting with PNNL-based AAF Manager Beat Schmid. A year later, he signed on to oversee field campaigns and to lease aircraft. By then, history records that the AAF was only two years old.
The logistical role meant "I kind of left science behind a little bit," he says, though he powered through, while working full time, to finish his PhD in 2010.
Starting in 2009, Tomlinson was thrown into the midst of a fast-turnaround interval that transformed ARM. He helped:
acquire instruments for more ARM cloud studies (the historical emphasis had been on atmospheric gases and aerosols)
refine the architecture for the AAF, which combined ARM's previous aerial research operations
develop the Gulfstream-159 (G-1) research aircraft, which had been owned by Battelle Memorial Institute since 1988, as the primary aerial platform for the AAF
prepare for ARM's first field campaign with the G-1: the Carbonaceous Aerosol and Radiative Effects Study (CARES) in June 2010, which focused on the urban air plume over Sacramento, California.
The G-1's first cloud mission with AAF, the CalWater field campaign, came in 2011, the year that Tomlinson says the transition to expanded aerial missions was complete.
New Roles With Aircraft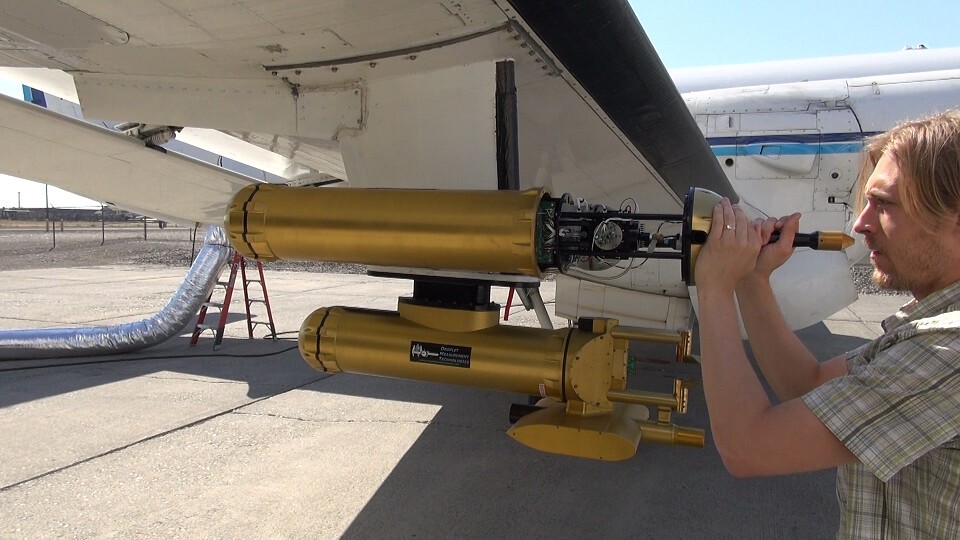 "Those were fundamental years" for the AAF, says Tomlinson of 2009–2011. "A lot of good things happened and continue to happen, with Beat steering from the top. He has great vision."
That vision included a role for Tomlinson in ARM taking on unmanned aerial system instrumentation for atmospheric research—"definitely a learning experience for me," he says of how low and slow and programmable aerial platforms can enhance measurement strategies. "There is a lot of new science that can be done."
Today, that vision for the AAF means Tomlinson is a central part of ARM acquiring a replacement aircraft for the G-1, which was retired in late 2018. He leads the aircraft modifications team for a recently purchased Bombardier Challenger 850 regional jet slated to be ready for its first ARM mission by the end of 2022.
"That has consumed the last year of my life," he says.
In November 2019, Tomlinson was busy putting the finishing touches on a formal statement of work to guide contractors—a bidding document so complex that "it's like a second dissertation, in a way."
A Natural Curiosity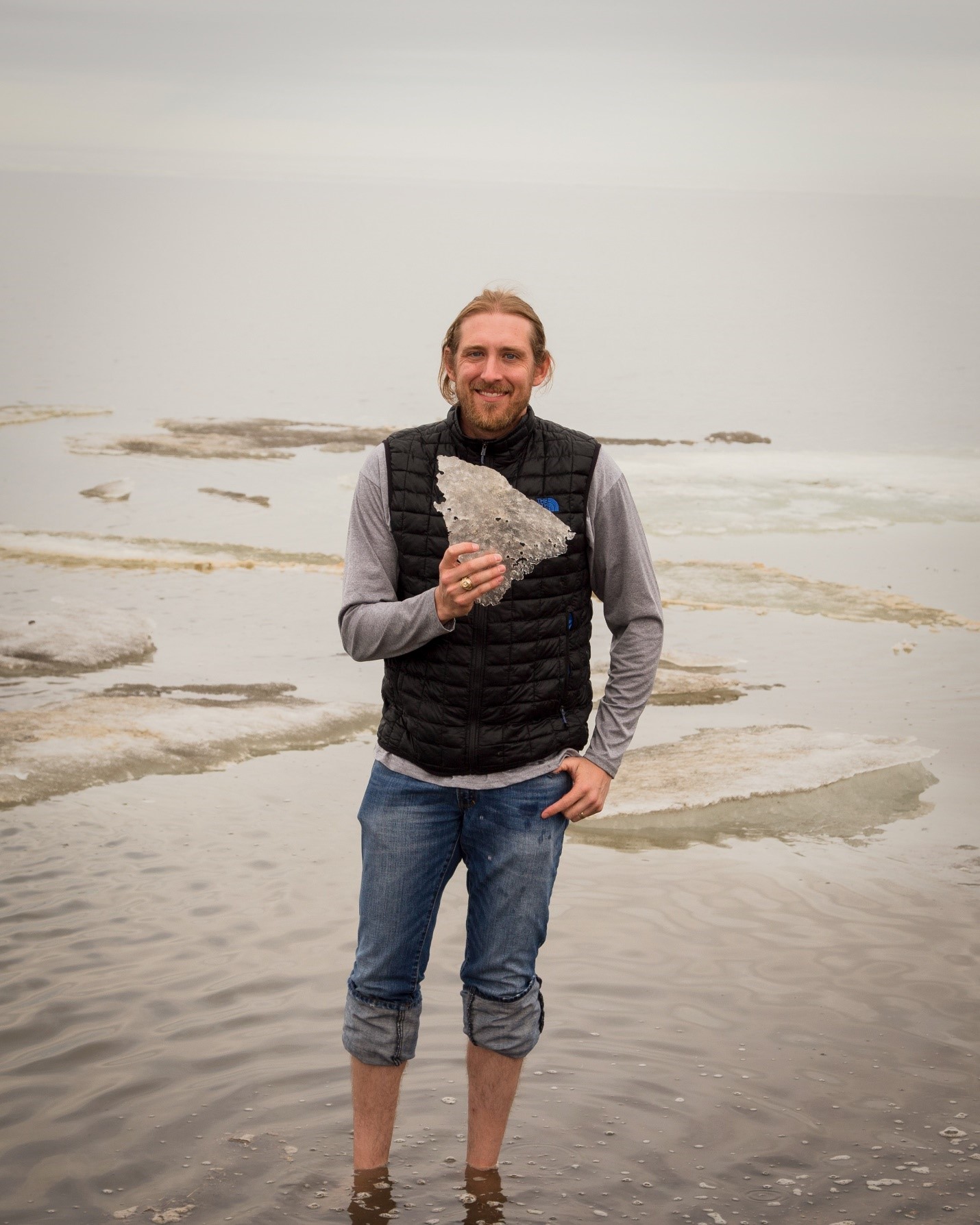 Aircraft, weather, the atmosphere, stars, and the sky at large were a blend of fascinations for Tomlinson as he grew up in the rural southwestern Michigan town of Schoolcraft, near Kalamazoo. It had a population then of 1,300.
"My head was always up in the sky," he says, starting with the heat lightning that used to ripple over his family's 30-acre homestead, where the house was in the middle of a cornfield.
Heat lightning—an archaic term for flashes of light reflecting on high clouds from distant storms—"is not really a scientific term," he admits. "But that's what my grandparents would call it."
Thunderstorms were entertainment too, along with the stars. Tomlinson's parents gave him a telescope during middle school.
"I developed a natural curiosity," he says, "and I would ask, 'Why is that?' " about all sorts of phenomena.
"I grew up with an engineering mentality," adds Tomlinson, whose father supervised underground construction projects, was handy around the house, and rebuilt cars. "But I always wanted to go deeper—one level further."
That meant studying science, an idea that got a big boost from Janet Outman, his ninth-grade science teacher, a fan of dramatic experiments who armed the class with pinhole cameras and the right glasses to witness a partial solar eclipse.
"That got me on my trajectory," says Tomlinson. "She was a fantastic inspiration to me."
Paired Interests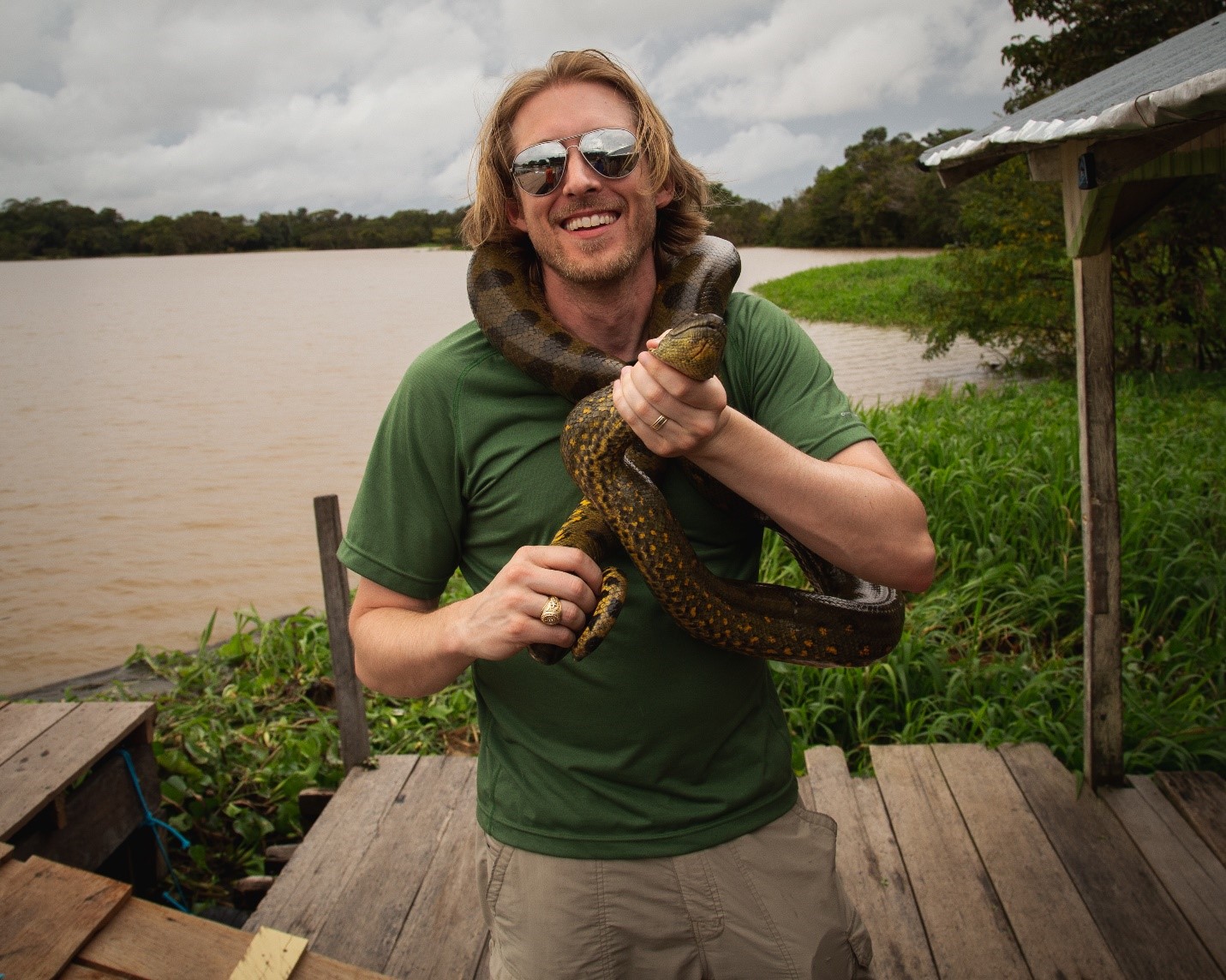 That trajectory into science took Tomlinson to Valparaiso University in Indiana (B.S., physics and meteorology, 2002). Despite flirting in high school with the idea of studying aeronautical engineering in college, he started out in astronomy and physics before settling on the meteorology program, which specialized in severe weather and broadcasting.
Tomlinson joined the program late and took five years to achieve his double-major bachelor's degree. He studied with atmospheric scientist John Knox (now at the University of Georgia) and meteorologists Bart J. Wolf and Teresa M. Bals-Elsholz—"all amazing teachers," says Tomlinson of those days. "I had always loved meteorology. Now I really loved meteorology."
During a summertime National Science Foundation research experience for undergraduates program at the University of Oklahoma, Tomlinson helped calibrate electric field meters to be launched into thunderstorms aboard radiosondes.
The experience reanimated his paired interests in engineering (a family trait, he says) and science (a quest to answer the enduring question "why?" of his boyhood).
"You know," Tomlinson recalls saying to himself that summer, "I can marry these together. I can do both in life."
'I Got My Hands Dirty'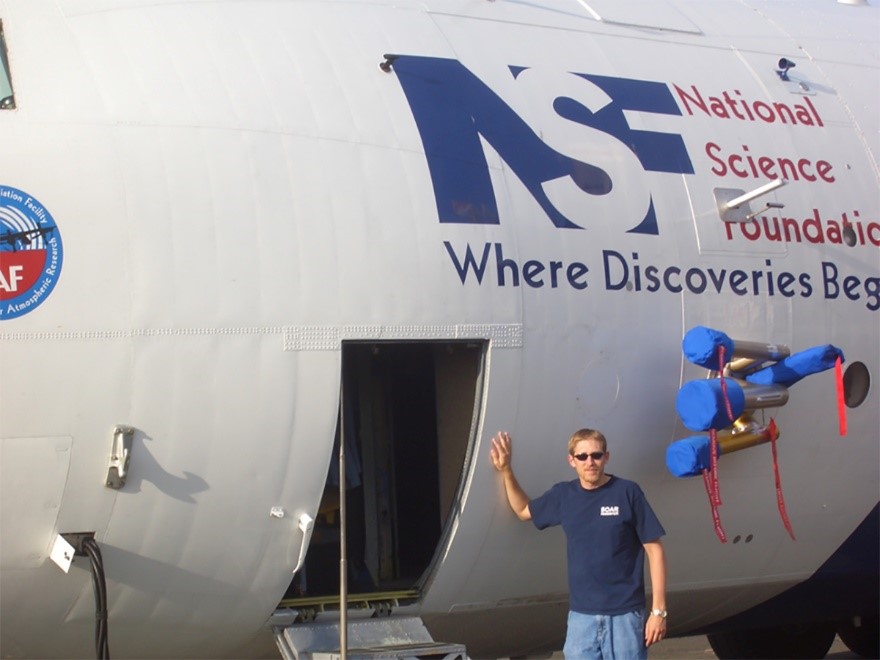 That science-engineering realization propelled him toward doctoral studies at Texas A&M University (PhD, atmospheric science, 2010), where he quickly fell into step with atmospheric chemist Donald R. "Don" Collins, a believer in combining learning from reading books, building instruments, and getting into the field.
"I really clicked with him," says Tomlinson. "He had perfect projects to work on. I got my hands dirty. That was the winner for me."
One such project involved a tandem differential mobility analyzer (TDMA) developed by Collins. Tomlinson was in charge of it during two ocean campaign cruises sponsored by the National Oceanic and Atmospheric Administration off the coast of Chile in 2003 and 2004, which he reported on in his first lead-author paper.
"I was still learning this very complex instrument," he says. "I was green, and there were a few things I had to MacGyver up"—that is, cleverly fix in a field-expedient way.
But he credits Collins for a useful "trial by fire" during a field campaign—his first of more than 20 so far in his career.
"It was very wise of him," says Tomlinson. "It was an extreme education."
Collins had built a miniature aerial version of the TDMA years before and asked Tomlinson to rebuild it for Megacity Initiative: Local and Global Research Observations (MILAGRO), a 2006 DOE and National Science Foundation air-quality field campaign in Mexico City.
In the summer of 2007, Tomlinson met Schmid during ARM's Cloud and LAnd Surface Interaction Campaign (CLASIC). Six months later, he started at PNNL, where work with ARM and the AAF has kept his eyes to the sky.
Today, ARM's new research aircraft "is so critical to the program," says Tomlinson of his present focus. "It's going to facilitate new science for the next 20 years, at least. I'm honored to be part of that."
# # #
ARM is a DOE Office of Science user facility operated by nine DOE national laboratories, including Pacific Northwest National Laboratory.