Infrastructure Management Board works with DOE to keep the user facility running smoothly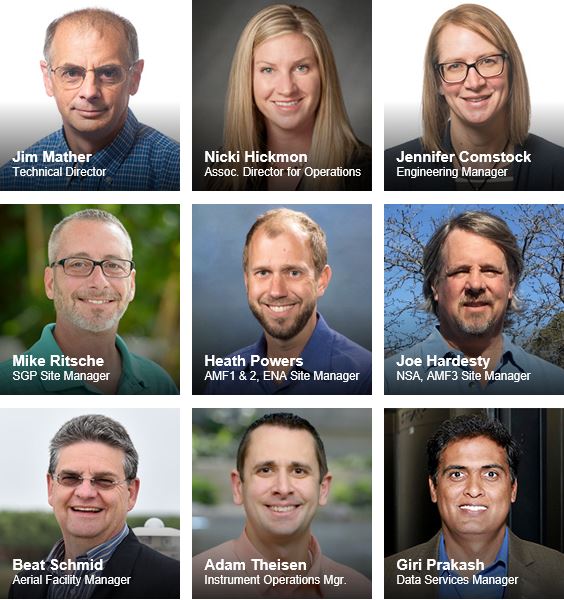 Operating the Atmospheric Radiation Measurement (ARM) user facility requires careful coordination between facility management and the U.S. Department of Energy (DOE).
Development of ARM's vision and work on strategic planning occurs between DOE and a group that represents key functions within ARM. This group—known as the Infrastructure Management Board (IMB)—consists of nine functional leads across the facility:
Jim Mather, ARM technical director
Nicki Hickmon, ARM associate director for operations
Jennifer Comstock, ARM engineering and process manager
Mike Ritsche, site manager for the Southern Great Plains atmospheric observatory
Jasper "Joe" Hardesty, site manager for the North Slope of Alaska atmospheric observatory and the third ARM Mobile Facility at Oliktok Point, Alaska
Heath Powers, site manager for the Eastern North Atlantic atmospheric observatory and the first and second ARM Mobile Facilities
Beat Schmid, ARM Aerial Facility manager
Giri Prakash, data services manager
Adam Theisen, instrument operations manager.
"The IMB is set up to represent all of the areas of the facility: operations of each of the sites, of the aircraft, product development, data services, instruments, engineering, and overall management," says Mather.
Making Calls
With ARM being managed and operated by nine DOE national laboratories in seven states, the IMB is crucial to the facility's function because it allows for regular communication among its members.
Once a week, the IMB has a call with DOE ARM Program Manager Sally McFarlane to discuss what is happening in ARM and DOE. The calls provide opportunities for members to talk about concerns, solve problems, report on progress, make decisions on ARM activities, or divvy up tasks. These conversations often trickle down to other facility staff as IMB members return to their functional areas to share important developments from the meetings.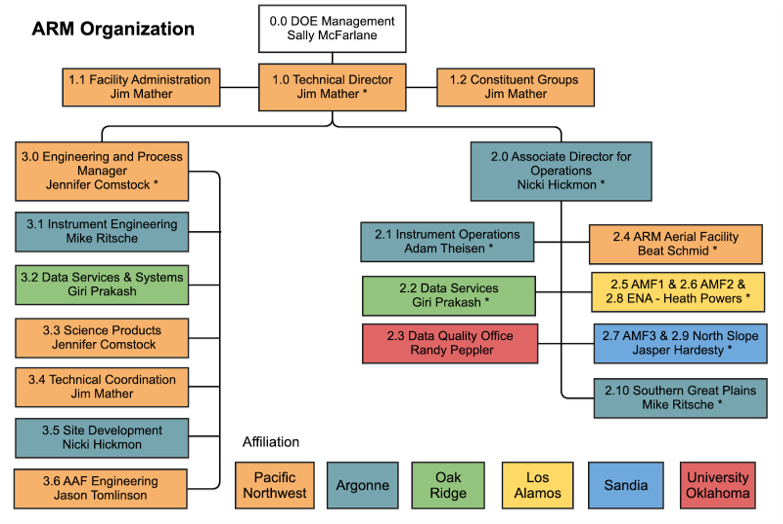 If necessary, McFarlane will contact IMB members separately about issues or requests related to their specific area of responsibility within ARM.
Another key IMB function is reviewing campaign proposals and other facility use requests. The IMB approves or rejects proposals for small field campaigns or the use of ARM's high-performance computing clusters. Although users may submit these proposals at any time, the IMB makes its decisions on a quarterly basis.
"Typically, if it's something that has a low impact, and it's not so expensive, we love to accommodate those—and we typically will accommodate those," says Mather.
Once a year, DOE usually puts out a call for field campaign preproposals that include the deployment of an ARM Mobile Facility. The IMB reviews submissions based on feasibility and cost. Full proposals are requested and forwarded to the ARM Science Board, a board of scientists convened by McFarlane, which rates the proposals based on the campaign's scientific impact.
The ultimate choice to proceed with a mobile facility campaign rests with DOE, which considers the IMB's logistics assessment and Science Board's science evaluation in making its decision.
Budget Planning
During a typical year, the IMB usually meets in person at the Joint ARM User Facility/Atmospheric System Research (ASR) Principal Investigators Meeting. Later in the summer, the IMB will gather to discuss the coming year's ARM budget with DOE. In 2020, the budget meeting for fiscal year 2021 went virtual because of the COVID-19 pandemic.
Several months before the budget meeting, Mather contacts the other functional leads so they can prepare budgets for their respective areas. During the meeting, the IMB and DOE discuss new activities and requests for the coming year.
"We don't make any decisions there," says Comstock. "We talk about some of the priorities and major activities, and then we have some actions that usually come out of it." These actions usually include requests for additional information before Mather turns in the final ARM budget to McFarlane around September.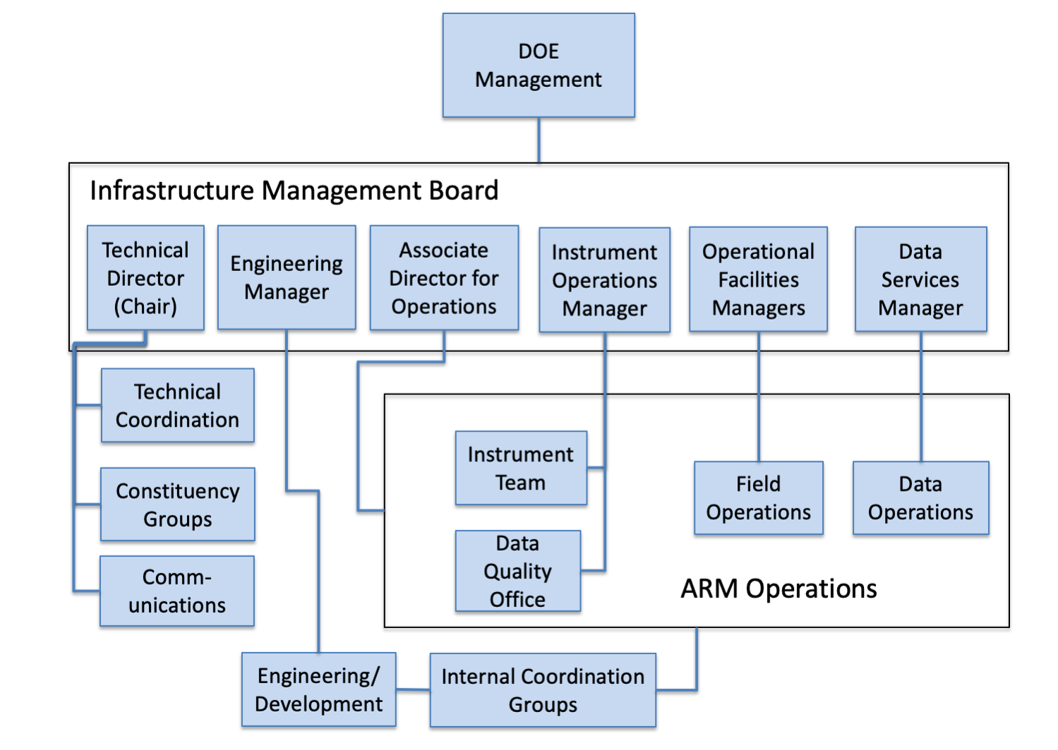 Review Time
This year, the IMB devoted a significant amount of time to preparing documents and presentations for ARM's Triennial Review, an external review scheduled for November 2020.
With questions in hand from DOE, a panel of domain and technical experts will assess ARM on its scientific impact, operations, management, and engagement with users. During the three-day review, which is taking place virtually, IMB members and ARM communications leadership will present on how they have addressed these areas over the past three years. About a month after the review, follow-up actions for ARM management are expected from DOE.
Also accompanying the package to the review panel is ARM's updated Decadal Vision—the facility's long-term vision document. Prepared by the IMB and communications leadership, the Decadal Vision is crafted to align with the needs of the scientific community. The document will be finalized after ARM management receives feedback from the Triennial Review panel and DOE. (Read the latest version of the Decadal Vision.)
Internal and External Influences
Decisions within the IMB do not happen within a silo. The IMB often considers information from several sources, such as other ARM staff and constituent groups. These groups, which include ARM users as members, make recommendations to ARM on how it can meet its own science goals as well as those of the atmospheric science community.
Some constituent groups also include IMB members and other ARM staff representing their respective functional areas within the facility. Comstock, Hickmon, and Theisen are members of the Cloud and Precipitation Measurements and Science Group, and Ritsche and Theisen are part of the Aerosol Measurement Science Group.
"When we're meeting at the constituency group level, it's good for us to all have our IMB knowledge of the priorities, where we're going—where ARM is going—and where the resources are going within those priorities," says Hickmon.
"Our COVID response is a very great example of why the IMB exists and the value of what we do."
Constituent groups report to Mather, who serves as the main conduit of information between these groups and the IMB.
Events outside ARM can—and do—affect IMB decisions. Early in the COVID-19 pandemic, the IMB faced decisions related to site operations and staffing. Safety of staff and users is always a chief concern of the IMB, but uncertainty around COVID heightened the group's concerns.
"We had a lot of discussions around what the appropriate responses were and if someone gets COVID, tests positive, what would happen, how we deal with that," says Comstock. "And we talked about what each site was doing to make sure everyone was going to be safe working there, what extra precautions people were taking."
ARM's observatories already have safety plans in place to account for weather and other external factors. This established process helped ARM adapt existing plans to address COVID. IMB members were able to meet quickly and discuss what their labs, DOE, and other local, regional, and national guidelines were saying so they could develop a coordinated facility response.
While operations continue at ARM atmospheric observatories and ARM recently completed mobile field campaigns in Norway and the central Arctic, COVID-related travel and visitor limitations are ongoing. The IMB and DOE are committed to making sure that ARM can safely operate its sites while continuing to provide high-quality data to its users.
"Our COVID response is a very great example of why the IMB exists and the value of what we do," says Hickmon.
# # #
ARM is a DOE Office of Science user facility operated by nine DOE national laboratories.