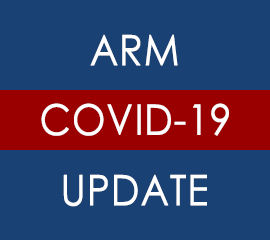 ARM's Southern Great Plains (SGP) atmospheric observatory went into reduced operation mode on April 2 because of the COVID-19 pandemic. A month later, with the easing of restrictions in Oklahoma, site operations staff have started a phased opening of the SGP.
Daily servicing of instruments began May 4 at 8:30 a.m. Central time. Additionally, several instruments that were taken offline are back in operation. These instruments are:
CCN, PSAP, and f(RH) in the Aerosol Observing System (AOS), all online as of May 4
Radiosondes (SONDE), which are being launched around the clock as of May 4
Raman lidar (RL), online as of May 4
Total sky imagers (TSI), both online as of May 4
Infrared sky imager (IRSI), online as of May 6.
Right now, the first phase of the SGP opening process is scheduled to last two weeks.
Operations continue at other atmospheric observatories; however, visitors continue to not be permitted at any of the ARM sites until further notice.
Instruments at the other sites, including those deployed for MOSAiC and COMBLE, are operating normally, but we continue to monitor the situation closely. Additionally, we are still not allowing travel to ARM observatories. This means that instrument repairs will be delayed.
Travel restrictions associated with COVID-19 have delayed the transition from Leg 3 to Leg 4 of the MOSAiC expedition, but the expedition organizers have now developed a plan for this transition. The main MOSAiC icebreaker, the R/V Polarstern, will leave the ice later this month to complete a crew and supply transfer near Svalbard, Norway. The Polarstern will then return to the ice and continue the expedition. The round trip for this transfer is expected to take approximately three weeks.
We will continue to do our best to keep you informed as conditions change, but don't hesitate to reach out if you have questions about the status of the facility.
Thank you for your engagement with ARM.
Jim Mather
ARM Technical Director