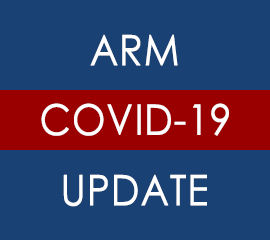 Impacts associated with COVID-19 are evolving rapidly, and that is true for ARM as well. With increased local government restrictions and guidelines for social distancing, ARM is making changes to site operations. At most observatories, operations are continuing but with reduced staffing on site. However, with growing impacts of COVID-19 in Oklahoma, we have made the move to close the Southern Great Plains (SGP) observatory until further notice. This means that there are currently no staff on site and instruments that cannot be run unattended were shut down April 2.
Most instruments will continue to operate and will be monitored remotely by SGP staff, but they will not receive routine preventive maintenance. If failures occur, these will be noted in Data Quality Problem Reports (DQPRs), but repairs will not be possible until the site is reopened. Because of the potential impacts to instruments from operating in this mode (without preventive maintenance), a site-wide Data Quality Report (DQR) will be applied to all instruments.
Examples of instruments that will continue to operate include:
Broadband radiometers (SIRS), infrared thermometers (IRT), multifilter rotating shadowband radiometers (MFRSR)
Surface meteorology sensors (MET)
Eddy correlation flux measurement systems (ECOR), soil temperature and moisture profilers (STAMP)
Atmospheric emitted radiance interferometers (AERI)
Microwave radiometers (MWR and MWR3C)
Micropulse lidar (MPL)
Ka-Band ARM Zenith Radar (KAZR)
Aerosol Observing System (AOS) instruments, except those indicated below.
Instruments that are shut down:
CCN, PSAP, HTDMA, and f(RH) in the AOS
Radiosondes (SONDE)
Infrared sky imager (IRSI)
Raman lidar (RL)
Total sky imagers (TSI)
Scanning ARM cloud and precipitation radars (e.g., SACR and SAPR).
At this time, instruments at the other sites, including those deployed for MOSAiC and COMBLE, are operating normally, but we are monitoring the situation closely. Additionally, as has been true for the past few weeks, we are not allowing travel to ARM observatories. This means that instrument repairs will be delayed.
Restrictions on travel to the sites is also having an impact on field campaigns. We realize that closures of your own institutions or laboratories may affect your ability to prepare for an upcoming field campaign. We are committed to working with all of our users to reschedule previously approved field campaign activities once the sites are reopened to visitors. We are holding off on decisions to postpone or cancel campaigns as long as possible, but it will not be possible to conduct most campaign activities scheduled through mid-May. If you are the principal investigator for a campaign scheduled to occur through mid-May and are unclear about the status, please reach out to the site managers for information on status.
We will continue to do our best to keep you informed as conditions change, but don't hesitate to reach out if you have questions about the status of the facility.
Thank you for your engagement with ARM.
Jim Mather
ARM Technical Director