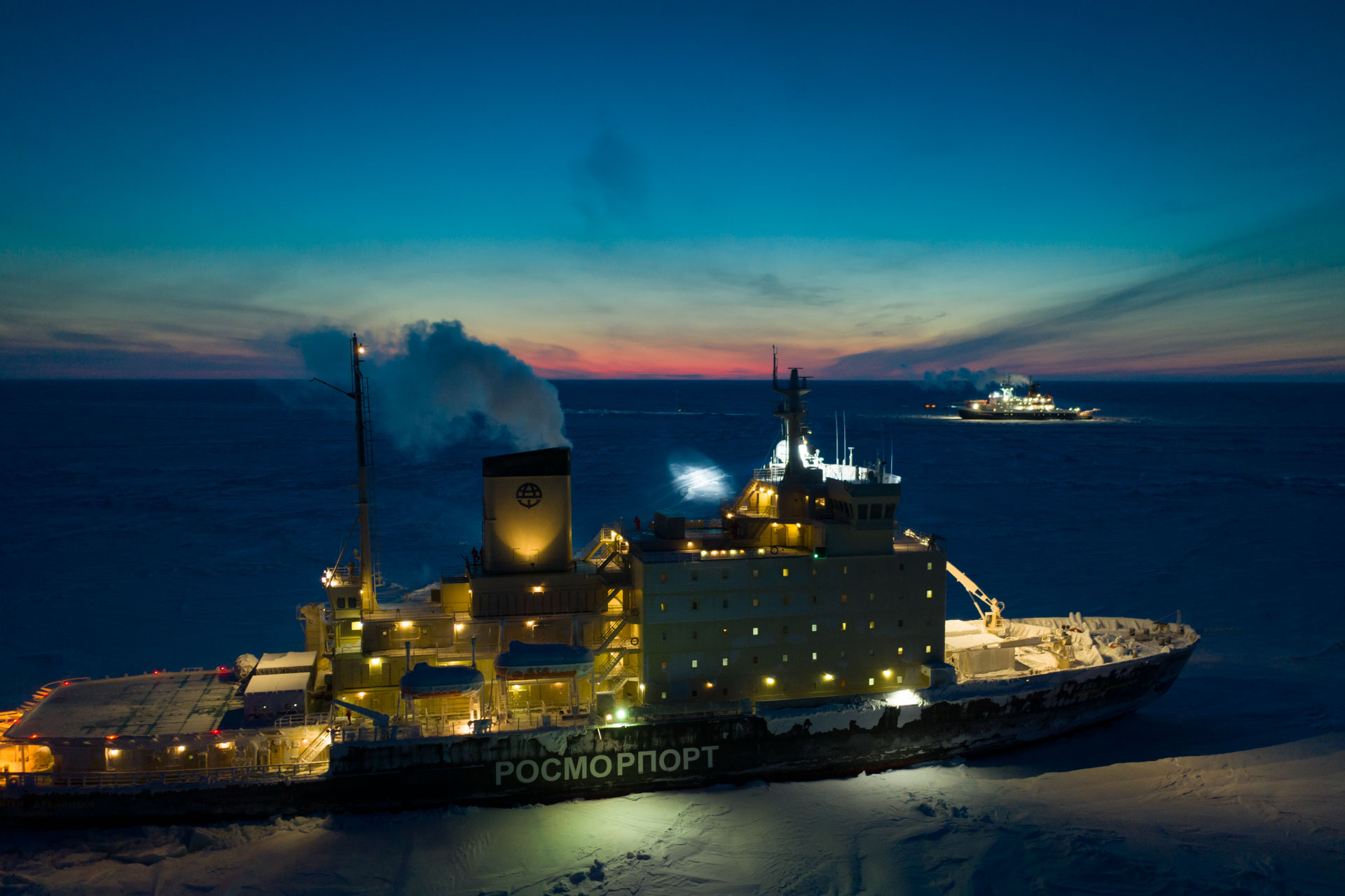 After weeks of churning slowly through sea ice in the remote Arctic Ocean, a Russian icebreaker carrying scientists, crew, and new equipment for the Multidisciplinary Drifting Observatory for the Study of Arctic Climate (MOSAiC) expedition reached the German R/V Polarstern, an icebreaker frozen into drifting sea ice about 100 miles from the geographic North Pole.
Over a few days in early March 2020, people carefully ferried tons of cargo between the two ships. Dozens of scientists and crew switched cabins, some bound for home after months on dark ice, others thrilled to begin a two-month stint serving science on the international arctic climate mission.
On the MOSAiC expedition, experts from 20 nations are studying the arctic climate system for an entire year (September 2019–October 2020). MOSAiC science emphasizes the connections among the ocean, ice, and atmosphere, and the German Alfred Wegener Institute (AWI) coordinates the mission.
U.S. participation is primarily supported by the National Science Foundation, which is contributing roughly $24 million to the project, making it among the largest arctic research initiatives the agency has ever mounted. The U.S. Department of Energy (DOE) is also highly invested in the mission, funding nearly $10 million and providing the largest suite of atmospheric instruments.
"We've known from the beginning this would be a challenging campaign," says Sally McFarlane, DOE program manager for the Atmospheric Radiation Measurement (ARM) user facility. "Much about this campaign is a first, such as this exchange of staff and resources, as well as the valuable data that we are collecting. The scientists and staff are to be commended for the creativity they are demonstrating in coming up with solutions that are keeping people and equipment safe in this extremely remote region."
This exchange of people and scientific equipment took place a few weeks later than many tentatively planned for, because the resupply ship could move only slowly through the thick arctic sea ice. Mission leaders have emphasized from the beginning that since the mission involves so many firsts, all schedules should be considered flexible.
DOE ARM staff members Tercio Silva of Fundação Gaspar Frutuoso, and Steele Griffiths and Wessley King of Hamelmann Communications exited the Polarstern, leaving Paul Ortega and John Bilberry of Los Alamos National Laboratory and Dean Greenamyer of Hamelmann Communications to continue the atmospheric measurements on board.
For more information, read the full news release from the Cooperative Institute for Research in Environmental Sciences.
Read the AWI news release on the exchange.
# # #
ARM is a DOE Office of Science user facility operated by nine DOE national laboratories.