International effort seeks observations to help improve polar modeling and forecasting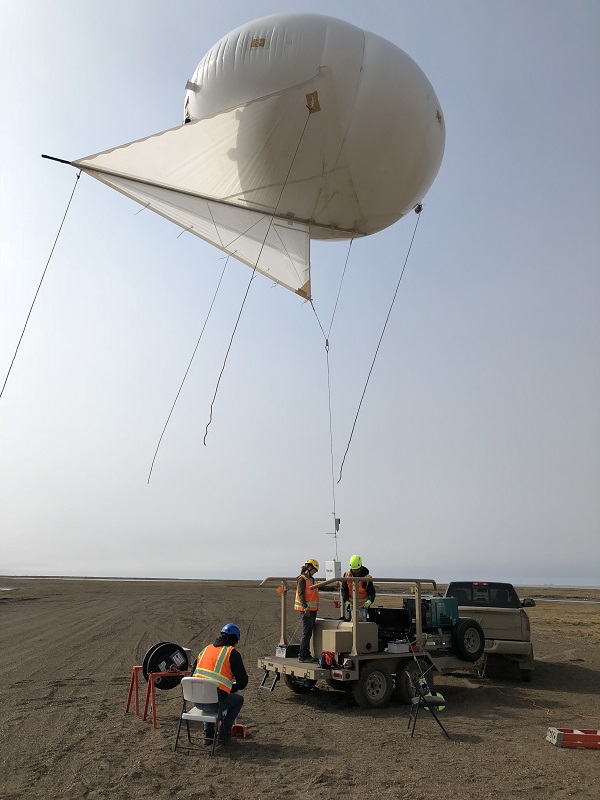 Right now, unmanned aerial systems are busy gathering data on atmospheric boundary layer properties, clouds, aerosols, and precipitation during an Atmospheric Radiation Measurement (ARM) user facility field campaign at Oliktok Point, Alaska.
The Profiling at Oliktok Point to Enhance YOPP Experiments (POPEYE) field campaign, which started July 1 and ends September 30, 2018, is part of an international initiative called the Year of Polar Prediction (YOPP). Consisting of three phases—preparation, core, and consolidation—over several years, YOPP is aimed at gathering observations that will help improve modeling and forecasting capabilities around the poles. POPEYE is part of the core phase taking place from mid-2017 to mid-2019.
Future ARM-supported field campaigns that will contribute to YOPP are:
Multidisciplinary Drifting Observatory for the Study of Arctic Climate (MOSAiC): During the 13-month campaign starting in September 2019, an icebreaker-based observatory will freeze in, and drift with, the arctic sea ice for a full annual cycle. Along the way, it will make interdisciplinary measurements in the atmosphere, sea ice, upper ocean, and biosphere. ARM will provide a comprehensive instrument suite to characterize the atmosphere and its interactions with the sea-ice surface. ARM will deploy the second ARM Mobile Facility, along with advanced instrumentation to obtain physical and chemical properties of aerosols (tiny particles in the air). These instruments will be within the MOSAiC central observatory as it drifts through the central Arctic.
Cold-Air Outbreaks in the Marine Boundary Layer Experiment (COMBLE): Scheduled from January to May 2020 around the Norwegian Sea, COMBLE will seek to shed light on the dynamics and microphysical properties of clouds and precipitation in the high-latitude marine boundary layer during cold-air outbreaks. The field campaign will help researchers learn more about the properties of clouds associated with boundary layer convection, as well as air-mass transformation in cold-air outbreaks over open water. COMBLE is expected to include the deployments of an ARM Mobile Facility and a smaller set of ARM instruments.
Past YOPP-endorsed ARM field campaigns include:
The Measurements of Aerosols, Radiation, and Clouds over the Southern Ocean (MARCUS) field campaign, which took place from October 2017 to April 2018, consisted of a mobile facility deployment on a supply vessel traveling from Hobart, Australia, to three Australian Antarctic research stations. The vessel also went to Macquarie Island, which is located between New Zealand, Australia, and Antarctica. ARM instruments installed on the ship captured the properties of clouds and aerosols north and south of the oceanic polar front (typically around 60 degrees south) in spring, summer, and autumn.
From November 2015 to January 2017, the ARM West Antarctic Radiation Experiment (AWARE) collected cloud and aerosol data on the West Antarctic Ice Sheet that could help explain rapid earth system changes taking place in the region.
See a full list of YOPP-endorsed projects.
# # #
The ARM Climate Research Facility is a DOE Office of Science user facility. The ARM Facility is operated by nine DOE national laboratories.