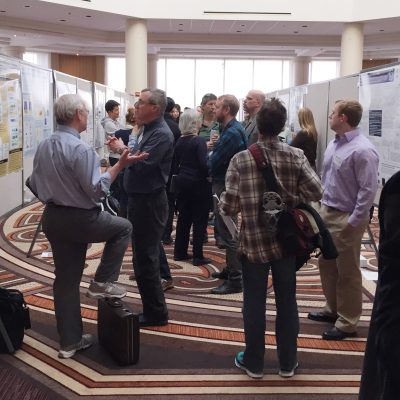 For the second year in a row, a major snowstorm hit during the Joint ARM User Facility/Atmospheric System Research (ASR) Principal Investigators Meeting in Tysons, Virginia. The storm impacted the travel plans of some of the more than 300 ARM Climate Research Facility staff members and ASR principal investigators who registered to attend the March 19 to 23, 2018, event.
Despite the weather, turnout was good for the meeting, which the U.S. Department of Energy (DOE) program managers called "very engaging and productive."
"People were really engaged," says Sally McFarlane, the DOE Program Manager for ARM. "Exciting progress was made in planning for upcoming research campaigns with the researchers and ARM infrastructure staff working together. The poster talks and breakout sessions this year were also really good."
Another part of the meeting that worked well, says Ashley Williamson and Shaima Nasiri, DOE Program Managers for ASR, was having the four ASR working groups—Aerosol Processes, Warm Boundary Layer Processes, High-Latitude Processes, and Convective Processes—meet at the end of the event. This enabled the groups to summarize discussions from the meeting and build on them. The ASR program managers say they will likely do this again next year.
Also, a first was a networking lunch hosted by the ARM User Executive Committee (UEC) for about 50 researchers new to ARM and ASR.
"The luncheon was a success on a number of levels," says UEC Chair Larry Berg from Pacific Northwest National Laboratory. "We were able to answer questions on everything from how to best work with ARM data to how to submit a campaign proposal."
Members of the UEC were also able to connect directly with people, and Berg hopes the researchers will feel comfortable sending UEC members follow-up emails if they have any questions or feedback. "We really want to hear from people and be a resource," he says.
All of this was in addition to plenary sessions that included updates from the DOE program managers and ARM Technical Director Jim Mather. Among the most popular was on DOE's soon-to-be-launched Energy Exascale Earth System Model (E3SM) project, by Ruby Leung of Pacific Northwest National Laboratory. As E3SM's chief scientist, she talked about results from recent field campaigns and ASR-funded projects, and she discussed the potential for international collaborations.
Poster sessions were held late afternoon both Tuesday, March 20, and Wednesday, March 21. Mather led an ARM All-Hands Meeting on Thursday, March 22, with more than 50 ARM staff members calling in from across the country. The ARM Data Center hosted a data help desk that was well visited during the joint meeting.
For information shared at the meeting to reach as many people as possible, the ARM and ASR program managers are asking attendees to post their presentations and posters on the ARM/ASR websites.
Breakout session summary reports should be submitted here by April 27. The breakout session reports serve as a record of discussion results from the session and are an important resource for the DOE program managers, as well as providing information about the science needs of ARM users to the ARM Facility.  Breakout session reports should provide a concise narrative, discussing key findings, decisions, issues, needs, and/or future plans and action items.  To submit, click on "Submit Summary" for your breakout session, which will bring up a web form with the breakout session report template.
Plenary and breakout session presentations may be uploaded here (in PDF form). For plenary presentations, simply click on the "Upload Presentation" link next to your name. For breakout session presentations, click on the "Upload Presentation" link next to the name of the appropriate breakout session. Multiple presentations can be uploaded to a breakout session.
Posters may be uploaded here (in PDF form).  You may search for your abstract by name or abstract title.
Contact pubs@arm.gov if you need assistance or have a question.