Editor's note: Giri Prakash, who manages ARM's data services, shares updates on the new version of ARM's Data Discovery.
If you have yet to use ARM's new Data Discovery, click on the video above. It shows the easy step-by-step process of searching for and ordering ARM data to support your research.
Thank you for using the new ARM Data Discovery! From May 29 through November 11, the ARM Data Center received 2,916 data orders totaling a download size of just over 196 terabytes. This was up from the same period in 2019, when 2,868 users ordered 113 terabytes of data.
We have been pleased to hear that the new Data Discovery has helped many of you find the data you were looking for—and then some! But we have also received a lot of great suggestions on how we can make some tweaks to better suit your needs. A few of you asked us to enable search preferences, expand to more datastreams and primary measurements for our recommended data, and allow data details pages to be bookmarked. We recently implemented these features.
If you have not yet ordered data in the new Data Discovery, you can watch the video in this post and follow the steps to place an order.
Please continue to send us feedback on what Data Discovery is doing right and how it can improve. This month, we are starting Phase 2 of the new Data Discovery rollout, when we will implement additional capabilities to make it even easier to use.
More Search Options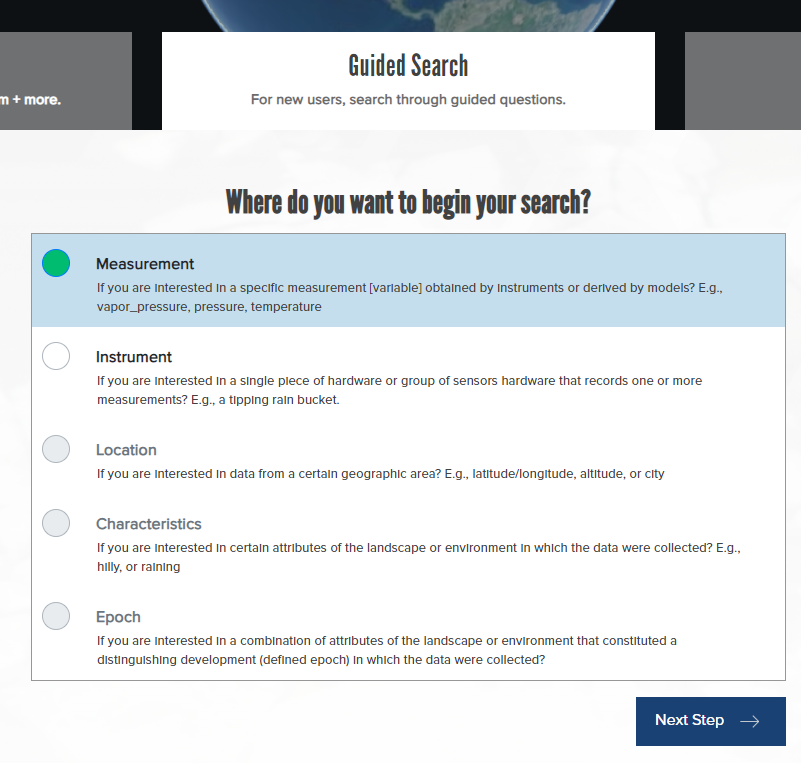 If you are new to ARM and unsure of how to look for data, we can help get you started. On the Data Discovery home page, you can answer a series of short questions through our Guided Search.
In Phase 2 of the Data Discovery rollout, you will be able to begin the guided search by specifying whether you are interested in a certain measurement or instrument, as well as data from a particular location or epoch. ARM data epochs are time periods with highly characterized data for a specific event.
With the new Spatial search, you can request data from a spatial domain that you define. The Spatial search will open a map where you can draw a polygon or rectangle around the desired area.
We are also integrating a Datastream search that allows you to directly search using datastream names and also select individual data files before ordering.
Data Details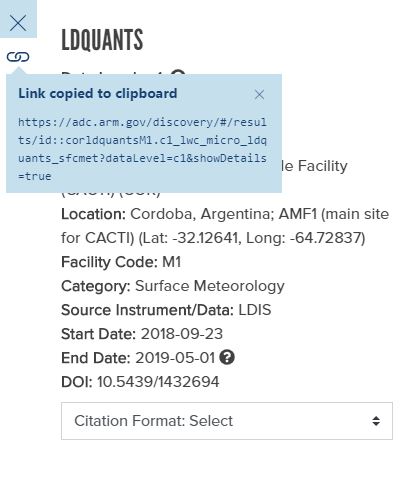 We also have some exciting changes to report about the data details pages. If you would like to send data information to a colleague directly from Data Discovery, we recently enabled shareable links to the data details pages. You can also add these links to your bookmarks folder.
We updated the plot viewer to better integrate it within Data Discovery, and you can see plots on the data details page for most current datastreams.
For citing ARM data, you will soon be able to pick from more than 100 citation formats accepted by journal publishers. Currently, you can select from ARM, APA, MLA, and Chicago styles in the drop-down menu on the data details page.
Last, we are improving the display of field campaign results by enabling data details pages that are similar to those of routine datastreams. This means that users will be able to see the same level of data details for the field campaign data products.
Account Options to Serve You
We are also enabling more features within your account profile. Within the "Your Orders" section of the account dashboard, you will be able to track your orders, reorder data, and see notifications about new data related to your past orders. You will also be able to select the format of emails we send to you, either in HTML or plain text.
If you have feedback on how Data Discovery can better serve you, please click the Feedback tab in the browser to submit your comment to the ARM Data Center.
Happy searching! Use the new Data Discovery today.
If you missed it, read the article about the launch of ARM's new Data Discovery.