User and stakeholder feedback instrumental in developing and refining new Data Discovery
Watch the video above to learn what ARM's new Data Discovery can do for you.
Finding data you need from the Atmospheric Radiation Measurement (ARM) user facility just got much easier.
In late May 2020, the ARM Data Center officially switched to the latest version of its Data Discovery browser. This is where users can search for and order data from ARM's nearly 30-year-old archive, which crossed the 2-petabyte mark in March 2020.
Based on feedback from users and stakeholders, the ARM Data Center began to develop the new version of Data Discovery in fiscal year 2019.
"In the past, users experienced a bit of a challenge finding the data that better suit their needs, especially with our vast collection of data," says Giri Prakash, who manages ARM's data services.
The beta version became publicly available earlier in the spring of 2020, and the ARM Data Center continued to refine the browser based on user comments. The improvement process is ongoing.
"The new Discovery has been completely crafted from the requirements of our community and stakeholders from the ground up," says Kyle Dumas, the lead developer of Data Discovery. "As we continue to get feedback from our users, we will further improve Data Discovery to make it a tool that works for everyone."
New Features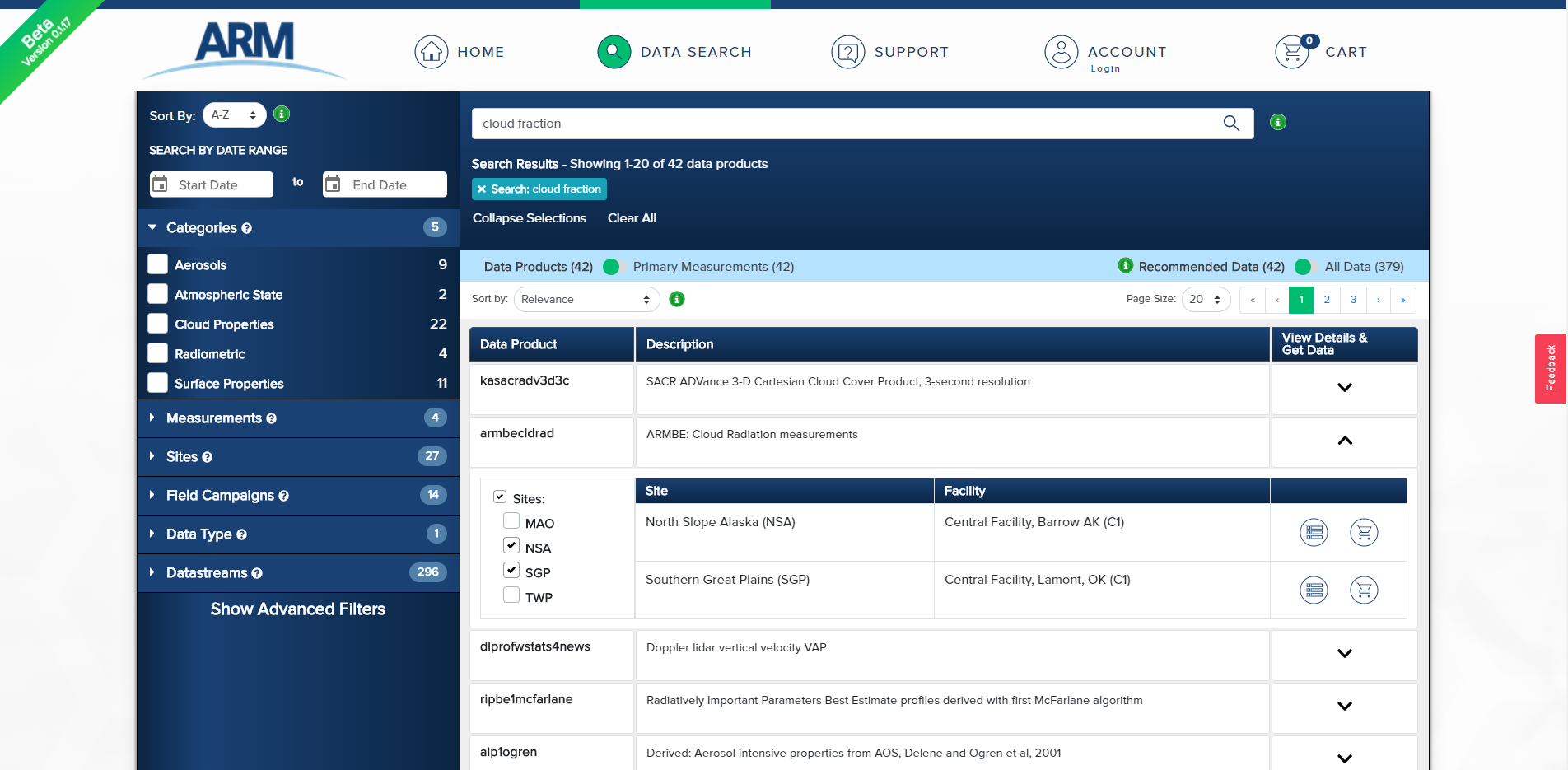 The new Data Discovery aims to make the searching process smoother for users, particularly in terms of finding ARM's best data. By default, Data Discovery filters search results to list recommended ARM data products based on criteria such as data quality, accuracy, and completeness.
On the Data Discovery home page, users can look for data by typing in specific terms, or they can employ a guided search. The guided option asks the user a series of questions to narrow the search results.
When a user clicks to view data details on the search results screen, a new pop-up page appears. This data details page provides resources such as:
the data timeline and quality
data plotting
primary measurements
citations in different style formats
file header information showing the measurements collected and their units
links to documentation on instruments, data products, and field campaigns, and to related publications
a drop-down contact form to send questions or comments directly to ARM data experts.
The data details page also lets the user add data to the order cart.
Users can manage account settings, review past data orders, and reorder data by logging in to the new "My Account" page.
If an issue arises in any part of Data Discovery, a user can click on the "Feedback" tab within the browser. This will allow the user to send a comment and a screenshot of the affected part of the page to the ARM Data Center.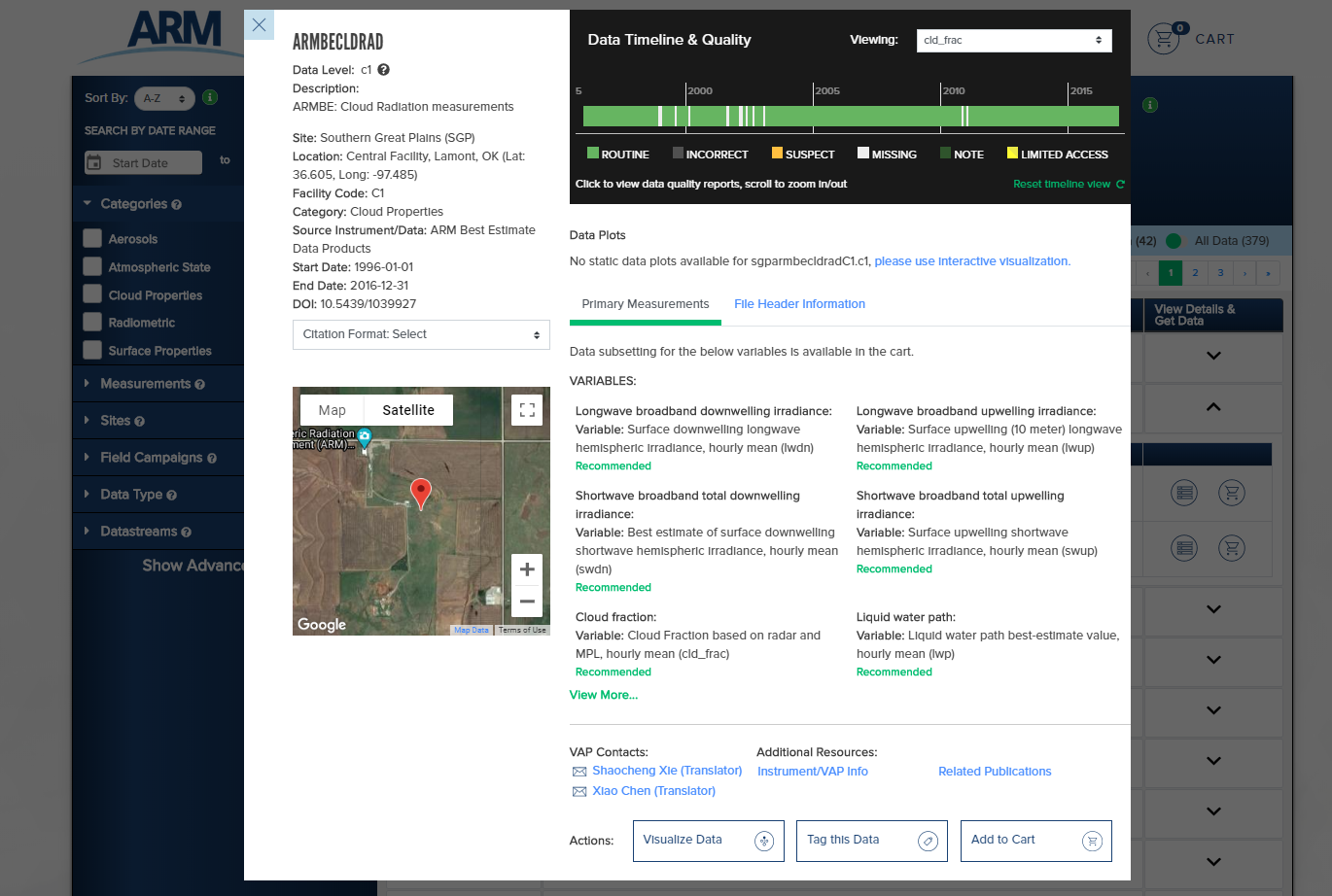 Try the New Data Discovery
"With Data Discovery, we have completely rethought how we do development."
The ARM Data Center team that worked on the new Data Discovery includes Mitchell Broxson, Michael Crow, Wade Darnell, Maggie Davis, Ranjeet Devarakonda, Kyle Dumas, Kavya Guntapally, Giri Prakash, and Harold Shanafield. This group works at Oak Ridge National Laboratory in Tennessee.
"With Data Discovery, we have completely rethought how we do development," says Dumas. "We have employed new technologies and practices that reduce the total code written while improving quality and reusability. This new architecture will make it quicker to stand up new applications and provide a more cohesive experience between them for our community."
There will be an introduction of the new Data Discovery during the 2020 Joint ARM User Facility/Atmospheric System Research (ASR) Principal Investigators Meeting, happening virtually from June 23 to 26.
In the coming months, the ARM Data Center will share more tips on the ARM website for navigating the new Data Discovery.
# # #
ARM is a DOE Office of Science user facility operated by nine DOE national laboratories, including Oak Ridge National Laboratory.