September 20, 2020, marked a big day in the Multidisciplinary Drifting Observatory for the Study of Arctic Climate (MOSAiC) expedition.
One year after leaving Tromsø, Norway, to start the MOSAiC expedition, the icebreaker R/V Polarstern ended its drift with the arctic ice floe and started toward its home port of Bremerhaven, Germany. The Polarstern is expected to arrive in Germany on October 12.
The Alfred Wegener Institute, which leads the expedition, posted about the special moment on its MOSAiC blog. Below is a screenshot of the post.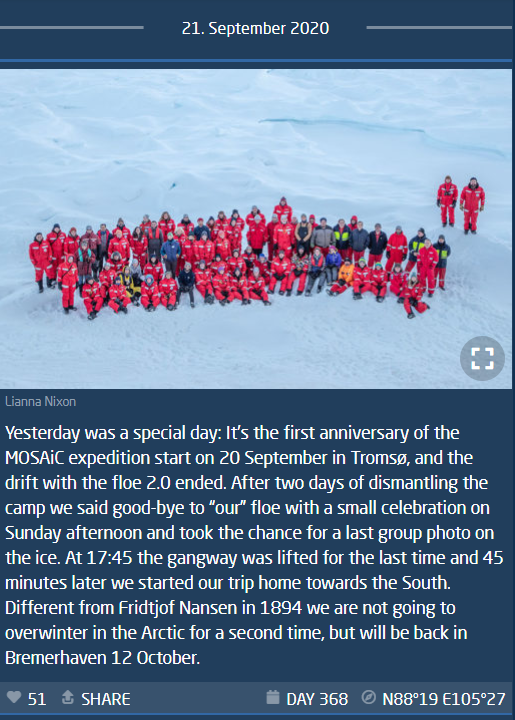 ARM Sighting
ARM technicians Zoé Brasseur and Matt Boyer appeared on the MOSAiC blog August 26 as they worked on the floe. Brasseur and Boyer are aboard the Polarstern, which, as of this writing, has traveled 10,805 kilometers (about 6,714 miles). The screenshot of the blog post is below.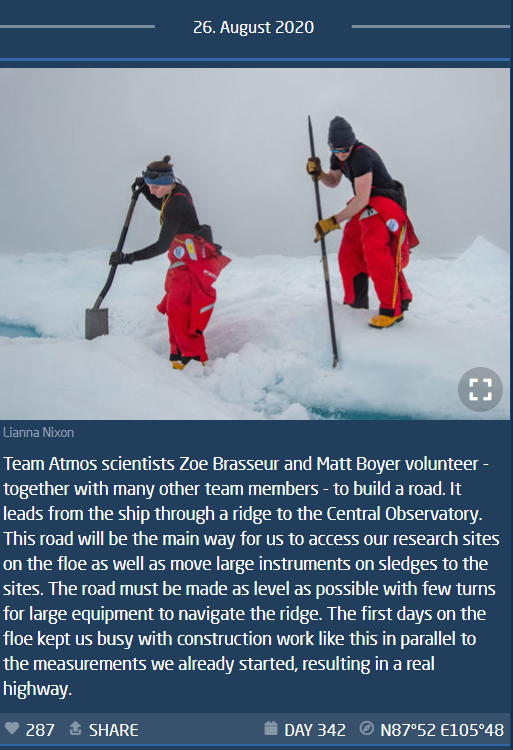 Polar Day to Turn Into Polar Night
The MOSAiC team is leaving just as the Arctic will soon be plunged back into darkness to begin the monthslong polar night. MOSAiC researchers and technicians spent the last polar night working in the dark.