Editor's note: William Gustafson, principal investigator for the Large-Eddy Simulation (LES) ARM Symbiotic Simulation and Observation (LASSO) workflow, sent in this update.
In June 2018, I shared our plan for a series of blog entries on expansion options we are considering for the LASSO workflow. While we will continue to conduct simulations of shallow convection at the Atmospheric Radiation Measurement (ARM) user facility's Southern Great Plains (SGP) atmospheric observatory, the LASSO approach of using high-resolution modeling to supplement ARM's detailed atmospheric observations also would be valuable for a much broader range of clouds and locations. At this time, we are thinking about the next weather scenario to rope with LASSO.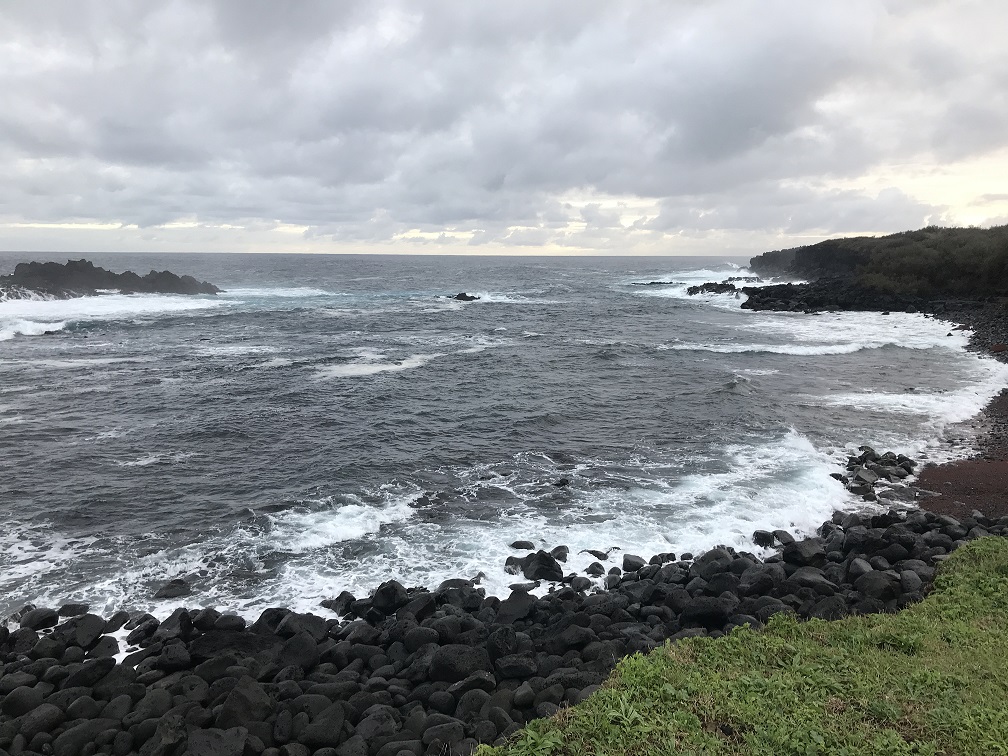 One possible LASSO scenario focuses on maritime clouds at ARM's Eastern North Atlantic (ENA) atmospheric observatory, located on Graciosa Island in the Azores. Climatologically, the ENA site is dramatically different from the SGP, most obviously by the fact that it is on a small island surrounded by ocean. Generating LASSO data bundles for the ENA would provide a contrast to the continental conditions at the SGP. The marine stratocumulus clouds at the ENA are similar to the shallow convection at the SGP in that they are both shallow clouds, but the differences in surface fluxes and effect of cloud-radiation processes lead to different cloud behaviors. Providing simulations for both types of shallow clouds would be very useful to boundary layer and cloud parameterization developers, who are among the primary types of researchers LASSO targets.
Configuring an LES model for routine simulations at the ENA would entail several key decisions that would drive many of the choices. The first choice is for what specific cloud types should the model setup be optimized? Marine stratocumulus is a dominant cloud type at the ENA and would be a good choice, since marine stratocumulus is highly amenable to the LES approach, has a long history of being simulated with LES and cloud-resolving models, and would be computationally feasible. However, the ENA is known to experience a wide variety of cloud conditions depending on the time of year, and some researchers could prefer either a broader focus across a range of cloud types or a targeted approach for a different type of cloud.
The second important choice would be how to treat the island-ocean interface. We could configure the model with an all-ocean lower boundary and selectively choose simulated cases to only include days when the wind predominantly blows from the ocean to minimize island influences on the clouds. Alternatively, we could use a more complicated model configuration that includes the island and the capability to capture the land-sea contrast and flow perturbations due to the orography. We need input from potential users on which of these (or alternative) configurations would be more valuable and more widely used.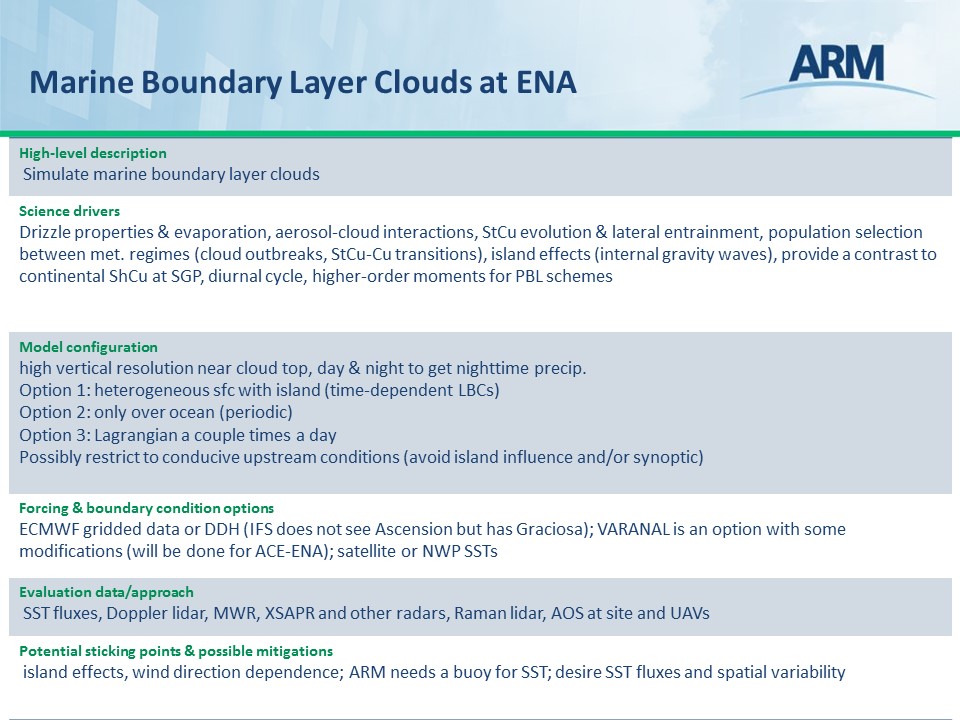 Ultimately, the choice will come down to the science drivers behind running LASSO at the ENA combined with how widely the data bundles will be used for a given configuration. Some science drivers suggested at the 2018 Joint ARM User Facility/Atmospheric System Research Principal Investigators Meeting include:
drizzle properties and evaporation
aerosol-cloud interactions
evolution of stratocumulus and the impact of lateral entrainment
cloud populations between meteorological regimes, e.g., cloud outbreaks and stratocumulus-to-cumulus transitions
internal gravity waves generated by island effects
higher-order moments for planetary boundary layer schemes
Join the Discussion
How would you use ENA LASSO simulations? What types of research would they benefit, and how would you apply them? We created a forum for users to share their thoughts and discuss their ideas to help the ARM management and LASSO team make the right decision for expanding LASSO.
We invite you to participate in the forum discussion on Github where we have begun an entry on the ENA expansion option. We will be adding additional entries for other options as the blog series progresses.