Editor's note: Greg McFarquhar, director of the University of Oklahoma's Cooperative Institute for Mesoscale Meteorological Studies and principal investigator for the Measurements of Aerosols, Radiation, and Clouds over the Southern Ocean (MARCUS) campaign, sent this update.
Here I am on the Aurora Australis supply vessel in Hobart, Australia, before its voyage to the Antarctic.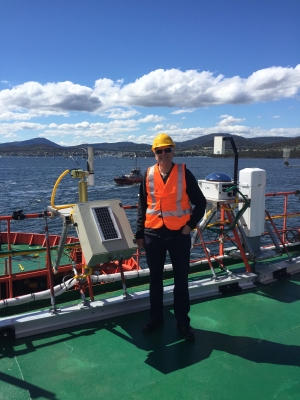 All instruments were correctly installed, with most of them collecting great data during the Sea Trials test voyage. Heath Powers at Los Alamos National Laboratory said the install was possibly their best ever. That's very good to hear.
MARCUS officially began October 29 and is off to a great start. The Southern Ocean is notorious for its rough winds and waves, and the MARCUS team has already encountered 10-meter swells and 50-knot (58 mph) winds. However, we are getting lots of unprecedented data that will help us better understand cloud and aerosol properties over the Southern Ocean. We are confident that trend will continue.
Read the recent feature story on MARCUS.