Hooked on science early, researcher and professor Gannet Hallar now investigates clouds and aerosols in the Intermountain West
This is the eighth article in a series of profiles on members of the ARM User Executive Committee (UEC).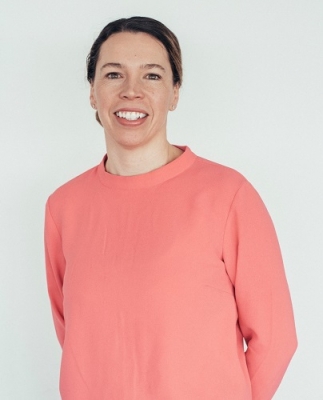 In the summer of 1998, Gannet Hallar was about to enter her senior year as a physics major at Truman State University in her home state of Missouri.
Intrigued by studying physics through weather, she took an internship with a branch of the National Weather Service near where Hallar grew up in the village of Centerview (population 270), which is in "dead-central Missouri," she says.
When Hallar arrived to work, her first job was to help fix a set of automated weather instruments.
Though brand new, "they were broken," she says, remembering the toolbox, the hot weather, and the challenge to be handy. "That was really cool, and still is."
That happy task changed Hallar's life and gave a skyward direction to her fascination with physics.
Today, Hallar is an established atmospheric scientist so bound up and in love with her work that her three children are named after the hydrological cycle: Ocean, Snow, and Rio ("river," of course, in Spanish).
An expert in the fate and function of aerosols (tiny particles in the air) in the Intermountain West, she is a veteran user of data from the U.S. Department of Energy's Atmospheric Radiation Measurement (ARM) user facility and a regular participant in field campaigns run by ARM and others.
Hallar is an associate professor of atmospheric science at the University of Utah, and she directs Storm Peak Laboratory, a high-altitude research center in Colorado run by the Nevada-based Desert Research Institute (and where her husband, associate research scientist Ian Mccubbin, is site manager).
Hallar's research interests include aerosol formation; wildfire particulates, the aerosols they create, and intermountain air quality; high-elevation atmospheric observatories; aerosol formation mechanisms; and biosphere-atmosphere-climate interactions. (Those interactions inspired collaborations on how beetle-infested trees contribute to haze and air pollution.)
Doing Science, Cold and Hot and a Lot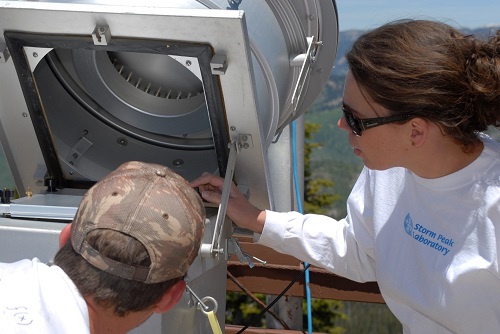 If you sit down to read Hallar's curriculum vitae, bring a pot of coffee.
At 20 closely spaced pages, it's deeper than a Rocky Mountain snowbank: awards, memberships, peer-reviewed papers (54 so far), other publications, and invited talks. She has done field studies not only in Utah and at Storm Peak, but also in Wyoming (cloud phases), Florida (cirrus clouds), California (drizzle and aerosol scattering), New York (aerosol life cycles), the Maldives (pollution transport), and Antarctica (halogen chemistry).
She took that freezing, thrilling trip to Earth's southernmost continent with Linnea Avallone, her doctoral mentor at the University of Colorado, Boulder. The Antarctica trip (August 2002) required a rare winter fly-in. It was preceded immediately by a NASA-funded Florida campaign in Key West, also with Avallone: the Cirrus Regional Study of Tropical Anvils and Cirrus Layers Experiment-Florida Area Cirrus Experiment (CRYSTAL-FACE).
"It was a huge campaign," says Hallar of CRYSTAL-FACE. "Many of the people I work with now, I met then."
In 2004, just a year after earning her PhD, Hallar also did a monthlong summertime stint inside an Oakland, California, traffic tunnel to study the aerosol optical properties of vehicle emissions.
"It's great to see the inner workings of a traffic tunnel," she remembers optimistically, though it required the right protective respiratory gear.
When Hallar delivered a recent talk on her career path to students at Truman State, she included a slide titled, "Where in the world will science take you?"
The answer: pretty much everywhere.
From Missouri to Mountains
At first, science came to Hallar.
When she was at Crest Ridge High School in Centerview, there were just 26 students in her graduating class. But Hallar had what she calls "an incredibly talented high school science teacher."
Juanita Peaslee, who is still teaching there, arranged one year for an online Advanced Placement physics course to beam into Crest Ridge from the University of Oklahoma.
Then there was her mother, a talented mathematician, who also taught at the high school. ("She raises goats for a living now," says Hallar admiringly. Her father, a businessman, continues to oversee the family farm.)
Spurred by the AP course, Hallar studied physics at Truman State (B.A., 1999), where she was wowed by a prominent professor, mentor and Argentine-born physicist Maria Di Stefano.
After the propellant of her inspiring college summer with the National Weather Service, Hallar moved on to the atmospheric science program at Colorado (M.S., 2001, and PhD, 2003).
Why move to Boulder? In part, it was because of the prospect of working with Avallone. "She was building instruments that flew on airplanes," says Hallar. "I could not imagine anything more exciting and awesome to do."
In Colorado, there was also the prospect of speeding down snowy slopes on slender beams the width of a shoe.
"From a young age, I have loved to ski," says Hallar. "In some ways, that has driven my career at mountain sites and my choice of graduate schools."
Snow, Fire, and Smoke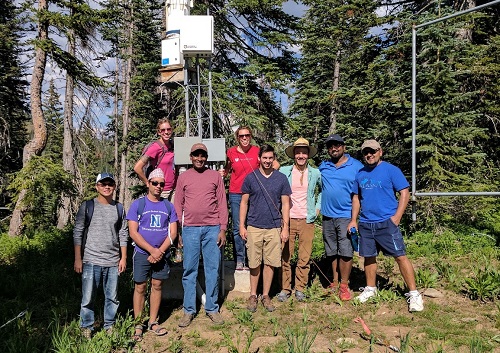 Hallar needs those skis at Storm Peak Laboratory, at least in winter. The lab is more than 10,500 feet up and gets snow October through July.
Her signature ARM field campaign happened there, from the fall of 2010 to the spring of 2011, with University of Utah colleague Gerald Mace as principal investigator. The Storm Peak Lab Cloud Property Validation Experiment (STORMVEX) was designed to collect data on wintertime cloud and aerosol properties, from within the clouds themselves.
Normally, Storm Peak is wrapped in clouds 35 percent of the time in winter. But cloud cover during STORMVEX was twice that, in addition to snow totals above 400 inches.
"It was spectacular for the science," says Hallar of the conditions, "but hard on the people."
She became Storm Peak director in 2006 following a two-year postdoctoral fellowship at NASA's Ames Research Center in California. It was at nearby Santa Clara University that Hallar had her first experience in front of a classroom and discovered her love of teaching.
"Students renew my interest all the time," she says, and teaching helps sharpen her presentation and writing skills.
In 2006, Hallar joined the Desert Research Institute as an assistant research professor and took on an adjunct faculty role at the University of Nevada, Reno.
These days, with a teaching base at the University of Utah in Salt Lake City, Hallar breaks from her schedule on many weekends to drive the five hours to Storm Peak, where she spends time every summer teaching visiting students and researching.
During her tenure, things have changed dramatically at the lab, which opened in 1995, thanks to a National Science Foundation grant. It has doubled in size and has a new chemistry lab, a nine-person bunk room, and toilets that no longer interfere with air sampling. ("We have to watch our own emissions," says Hallar.)
At Storm Peak, Hallar researches atmospheric conditions in the Intermountain West and—as reflected in a 2017 paper—the effects of drought on visibility and aerosols.
She is also enthusiastic about her work as a member of ARM's User Executive Committee, which enhances communications between scientists using ARM data and managers of the data.
"One thing I uniquely bring to the committee," Hallar adds, is informal university outreach for ARM and the U.S. Department of Energy as a member of the president's advisory council for the University Corporation for Atmospheric Research (UCAR), a consortium of 100-plus universities and colleges with atmospheric science programs.
Hallar helps organize the annual UCAR meeting, which this October will feature an outreach session with ARM Technical Director Jim Mather.
Read more profiles of UEC members.
# # #
The ARM Climate Research Facility is a DOE Office of Science user facility. The ARM Facility is operated by nine DOE national laboratories.