Submit your preproposals by February 9, 2024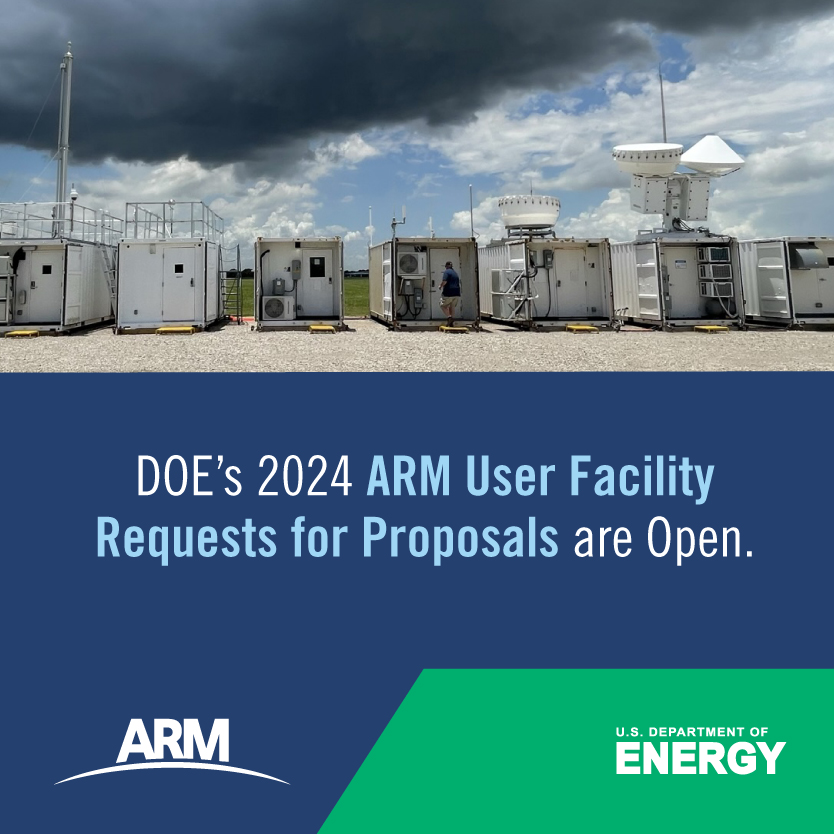 The Atmospheric Radiation Measurement (ARM) user facility, supported by the U.S. Department of Energy's (DOE's) Office of Science, is now accepting preliminary proposals from scientists to deploy an ARM Mobile Facility (AMF) for field campaigns to support the Biological and Environmental Research (BER) program's interests in advancing the fundamental understanding of atmospheric processes to improve regional and global earth system models. This announcement applies to applications to use either the first or second ARM Mobile Facility (AMF1 or AMF2) for deployments starting in spring/summer 2026.
Applicants will be expected to make comprehensive use of the ARM facility, focus on strategic goals of the DOE BER program, and clearly indicate the value of the proposed AMF observations for improving earth system models. Proposals that support the scientific goals of the U.S. Global Change Research Program (USGCRP), the Global Energy and Water Exchanges (GEWEX) project, and/or the Global Precipitation EXperiment (GPEX) are encouraged.
AMF1 is expected to be available for a domestic campaign starting in April 2026. AMF2 is expected to be available for domestic, international, or ship-based campaigns starting in July 2026. Exact campaign start dates will depend on location, details of the proposed campaign, complexity of the proposed deployment, availability of appropriated funds, and ARM logistical constraints. Applicants may only request deployment of a single AMF, and it should be clearly stated in their preproposals if their proposed campaign dates are flexible.
The ARM Infrastructure Management Board (IMB) will review preproposals for relevance to ARM goals, logistical feasibility, and safety/security concerns of the proposed location. Applicants will be informed whether their preproposals are encouraged for a full proposal.
Call Timeline
ARM will hold a field campaign processes webinar at 2 p.m. Eastern on January 9, 2024. Learn more and register.
Preproposals are due by 11:59 p.m. Eastern on February 9, 2024.
Encourage/discourage decisions will be sent to applicants by March 8, 2024.
Full proposals from encouraged applicants will be due by 11:59 p.m. Eastern on April 19, 2024.
View the proposal guidelines and how to submit.
# # #
ARM is a DOE Office of Science user facility operated by nine DOE national laboratories.