Tim McLain joins ARM Aerial Facility to oversee flight operations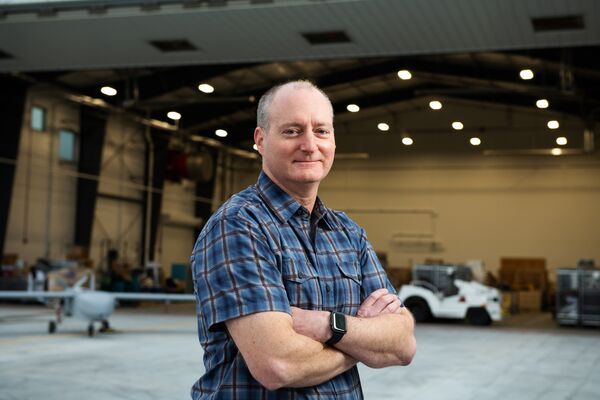 Gearing up for resumed operations of the ArcticShark unmanned aerial system and the expected 2022 arrival of its new research aircraft, the Atmospheric Radiation Measurement (ARM) Aerial Facility (AAF) needed a leader with extensive experience in long-term planning for successful and safe operations.
Late in summer 2020, that need was met when Tim McLain joined Pacific Northwest National Laboratory (PNNL) in southeastern Washington state to oversee AAF flight operations.
McLain brings a combined 30 years of service in the U.S. Air Force as both an officer and a civilian employee. This experience focused on pilot training, worldwide mission planning, and program management.
According to AAF Manager Beat Schmid, who is also a manager at PNNL, McLain stood out as an applicant, and once on the job, he expertly wrote several action plan documents for PNNL.
"Tim is closely engaged with both the manned aircraft and unmanned aerial systems, and he is effectively applying his considerable expertise to coordinate ARM aerial operations at a time when those operations are expanding," says Schmid.
For his part, McLain says he has been very impressed with the professionalism of everyone in ARM.
"The team here is passionate and enthusiastic about the AAF's science mission," says McLain. "Looking ahead, we are focused on moving forward to prepare for the Challenger 850 research aircraft. We are planning for everything from ground support equipment, maintenance, and pilot training to flight operations and procedures."
# # #
ARM is a DOE Office of Science user facility operated by nine DOE national laboratories, including Pacific Northwest National Laboratory.