The MOSAiC floe's days are numbered, but Polarstern will continue the expedition farther north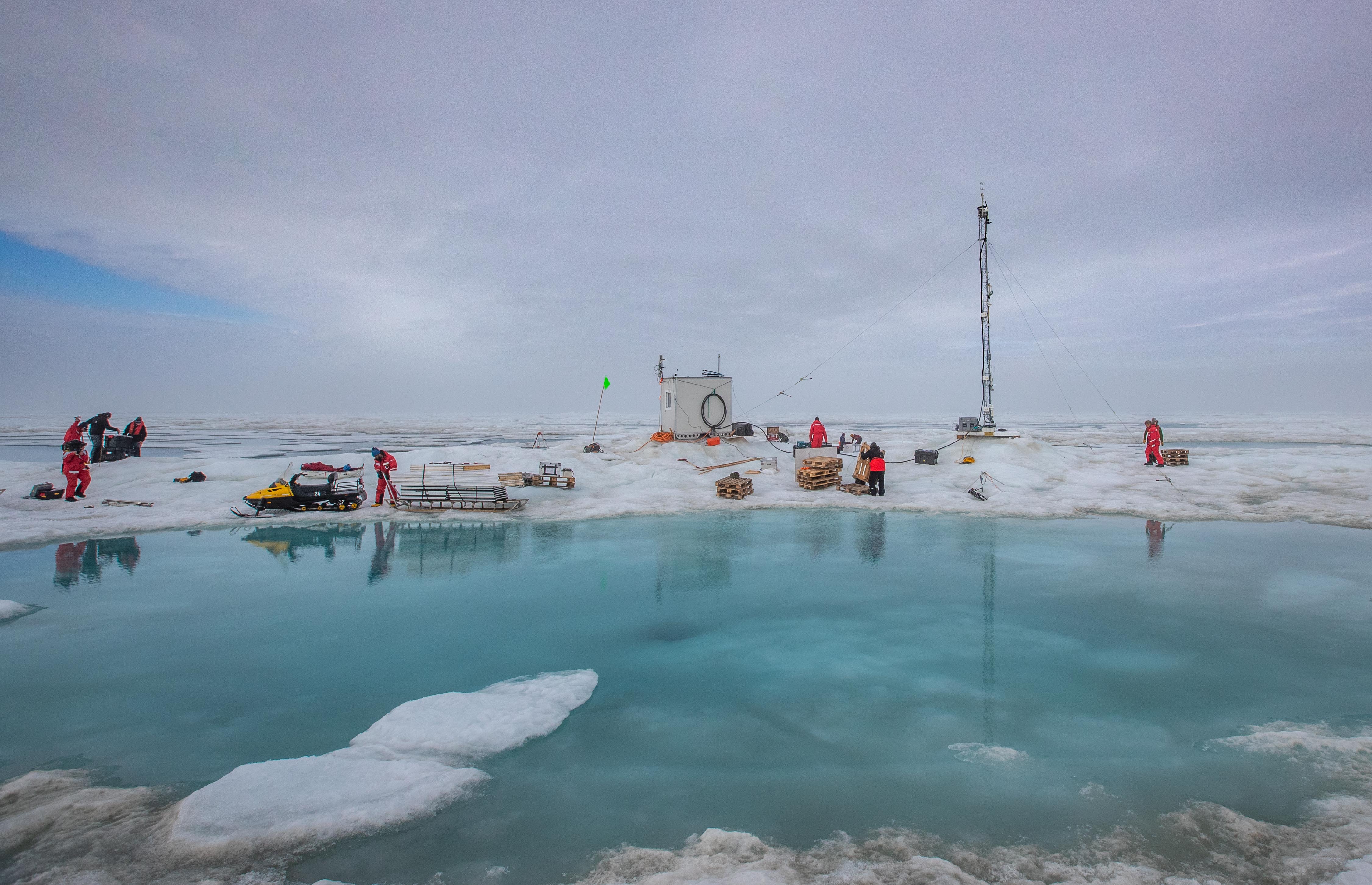 After exactly 300 days of drifting with the floe, the Multidisciplinary Drifting Observatory for the Study of Arctic Climate (MOSAiC) expedition's international team on Wednesday, July 29, 2020, started the dismantling of the research camp and evacuation of the floe. Just one day later, the floe finally broke into several fragments.
It came as expected: With a loud bang, on July 30, the MOSAiC floe broke into several fragments, which will drift out to the open ocean of Fram Strait within the next few days. Momentarily, the floe fragments are 5 kilometers (3.1 miles) apart from the ice edge. But the experts' timing was flawless: They continued their work with the complete research camp until the very end, before efficiently dismantling it and bringing all their equipment back on board, all within a day. Thereby it was possible to also document the very last phase of the life of the MOSAiC floe as planned—an impressive success for the expedition.
"We've successfully monitored the life cycle of the MOSAiC floe from early October last year to its end," says expedition leader Markus Rex from the Alfred Wegener Institute (AWI), Helmholtz Centre for Polar and Marine Research. "It carried us through the Arctic Ocean for a total of 1,700 kilometers (about 1,050 miles), from the Laptev Sea, past the North Pole and all the way to Fram Strait. Here at the sea-ice edge its natural life cycle comes to an end: The fragments will continue to grow thinner and be broken up by waves, until they ultimately melt and once again become part of the seawater, from which the floe was formed nearly two years ago off the Siberian coast. Accordingly, the concept for the expedition has been completely fulfilled. Now we'll focus on the last piece of the puzzle in the annual cycle: the start of freezing at the end of the summer. For this phase we'll be heading farther north, where the ice formation will soon begin."
Initially, however, the R/V Polarstern will remain near the ice edge, until the Russian research icebreaker Akademik Tryoshnikov joins it in the near future. The latter ship will bring with it the research team for the last MOSAiC leg, new crew members, provisions and fuel, as well as consumables.
For more information, read the full AWI news release. To see MOSAiC photos, view AWI's multimedia page.
MOSAiC co-lead Matthew Shupe, funded by the U.S. Department of Energy's (DOE) Atmospheric System Research and the National Science Foundation, is on the Polarstern for the current fourth leg. Shupe is a senior research scientist with the Cooperative Institute for Research in Environmental Sciences (CIRES) at the University of Colorado, Boulder, which is affiliated with NOAA's Earth System Research Laboratories. Instruments from DOE's Atmospheric Radiation Measurement (ARM) user facility continue to collect data for the expedition.