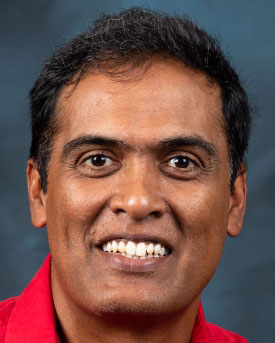 Giri Prakash, who manages data services for the Atmospheric Radiation Measurement (ARM) user facility, accepted an invitation to serve a four-year term on the U.S. National Committee for the International Science Council's Committee on Data (USNC/CODATA).
Prakash, who works at Oak Ridge National Laboratory (ORNL) in Tennessee, received the invitation from the National Academies of Sciences, Engineering, and Medicine.
CODATA is an interdisciplinary body that works to improve the quality and accessibility of data in science and technology. As the U.S. member of CODATA, the National Academies connect with the international committee through the USNC/CODATA.
"This is an opportunity for ORNL, ARM, and DOE to be represented on a global stage, as we advance our leadership in data informatics and FAIR (Findable, Accessible, Interoperable, and Reusable) principles," says Prakash. "I look forward to working with the world's leading data scientists to gain and share in-depth knowledge of best practices and guidelines."
As a USNC member, Prakash will contribute to planning and implementing U.S. participation in CODATA's programs. The committee organizes activities considering the needs of U.S. scientific and technological users, and it acts as a liaison between the U.S. and international data science communities.
The 11-member USNC/CODATA comprises a range of expertise in science and technology representing U.S. leaders in private industry, higher education, research institutions, and philanthropic organizations.
As a special responsibility on the USNC, Prakash will represent the United States at the CODATA General Assembly on June 25.
Read the full ORNL news release.
# # #
ARM is a DOE Office of Science user facility operated by nine DOE national laboratories, including Oak Ridge National Laboratory.