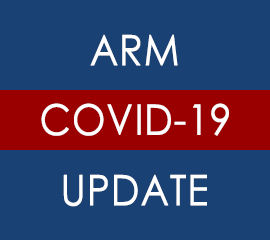 ARM's Southern Great Plains (SGP) atmospheric observatory moved into the second phase of its COVID-19 reopening plan May 26.
In Phase 2, the SGP is continuing to limit workers onsite; however, teamwork is being allowed, and some visitors will be allowed after a two-week moratorium. Visit requests will be considered on a case-by-case basis and are expected to begin June 8.
Right now, Phase 2 of the SGP reopening process is scheduled to last two weeks. We are drawing on guidelines from local governments and health organizations to help inform site operations decisions. All staff and visitors must comply with the SGP Phase 2 COVID-19 Safety Plan.
Operations continue at other atmospheric observatories, and most instruments are operating normally. One notable exception is the Eastern North Atlantic observatory's Ka-Band ARM Zenith Radar (KAZR), which stopped operating May 1. In the near term, we are not able to travel to sites, so we will be vulnerable to instrument outages. We continue to monitor the situation closely.
Because of travel restrictions associated with the COVID-19 pandemic, an alternative resupply plan is underway for the MOSAiC expedition. The main MOSAiC icebreaker, the R/V Polarstern, left the ice in mid-May and is heading toward Svalbard, Norway, to carry out the next crew and supply transfer. Once the transfer is completed, the plan is for the Polarstern to return to the ice and continue the expedition.
With the COMBLE campaign ending May 31 in Norway, pack-up of the first ARM Mobile Facility (AMF1) and other ARM instruments has begun as planned. At this time, we don't expect any changes to the time frame of the next AMF1 campaign, TRACER, which is scheduled to start in April 2021 in the Houston, Texas, area.
We will continue to do our best to keep you informed as conditions change, but don't hesitate to reach out if you have questions about the status of the facility.
Thank you for your engagement with ARM.
Jim Mather
ARM Technical Director