Submit your guest instrument flight proposals now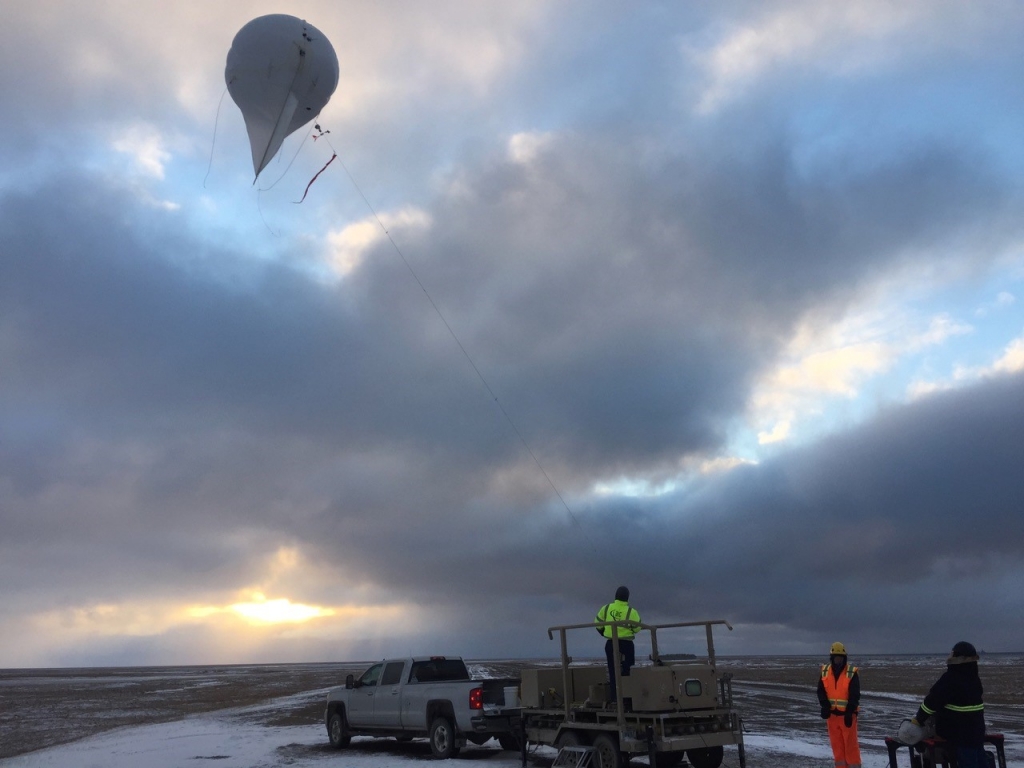 In 2019, the Atmospheric Radiation Measurement (ARM) user facility plans to continue the practice of tethered balloon flights at Oliktok Point, Alaska, with missions in the late spring and the late summer. Also in 2019, ARM is extending its tethered balloon capability by implementing a second system at the Southern Great Plains (SGP) atmospheric observatory. ARM is calling for proposals to fly guest instruments on tethered balloon systems (TBS) at the SGP or Oliktok.
As in previous years, flights at Oliktok are expected to include measurements within clouds. The spring flights will be restricted to instruments ARM has flown previously and are expected to include measurements of temperature, humidity and wind, supercooled liquid water, and aerosol number concentration and size distribution (from approximately 0.15 to 3 micrometers). The maximum altitude for flights at Oliktok is expected to be 4,921 feet (1.5 kilometers) depending on conditions.
Flights at the SGP will be in clear air only. ARM plans to fly up to three missions from spring through the fall. Each mission will last eight to 10 days, with approximately 10 hours of flying per flight day.
The inaugural flights in the spring will be primarily for testing and will be restricted to the core set of instruments used at Oliktok, excluding the supercooled liquid water as the SGP flights will be in clear air. The altitude range for flights at the SGP is still under review, but the maximum altitude will not exceed 3,281 feet (1 km) above ground level.
Guest Proposals Welcome
ARM is pursuing additional measurement capabilities for the TBS, including an infrared imager and an aerosol filter sampler. In addition, ARM will consider proposals to fly guest instruments during the second phase at Oliktok (August), or summer or fall flights at the SGP. For these flights, investigators can propose instruments that have not previously flown on the ARM TBS. Factors that will be considered in proposal reviews include:
relevance to the ARM mission
whether the instrument has previously been flown on a tethered balloon
the instrument's weight
the expected effort required by ARM staff for integration of the instrument onto the tethered balloon.
ARM will provide integration support for approved campaigns; however, ARM will not provide funding to principal investigators. Proposals will be reviewed together during the April quarterly field campaign review by the ARM Infrastructure Management Board (IMB). To be eligible for this review, proposals must be received by March 15.
Details of potential guest instruments will need to be worked out with ARM operations, but here are a few preliminary guidelines:
Guest instruments must be battery powered and cannot exceed 24 inches (61 centimeters) in any dimension.
Depending on weather conditions, mission requirements, and the TBS platform in operation, a total payload weight capacity of up to 70 pounds (32 kilograms) is available on the TBS.
Core ARM TBS instrumentation will consume a minimum of 17.1 pounds (7.75 kilograms) of payload weight capacity.
Sandia National Laboratories manages the Oliktok Point site, and Argonne National Laboratory manages the Southern Great Plains observatory.
# # #
ARM is a DOE Office of Science user facility operated by nine DOE national laboratories.