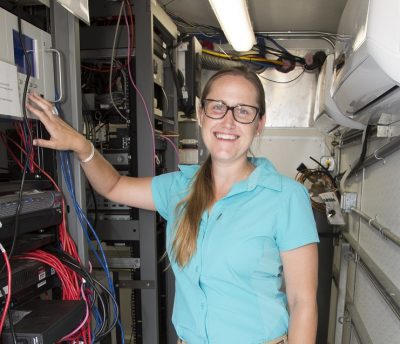 Allison C. Aiken of Los Alamos National Laboratory has been elected to chair the Instrumentation Working Group of the American Association for Aerosol Research (AAAR).
Aiken is the Aerosol Observing System (AOS) Operations Manager for the Field Instrument Deployments and Operations Team at Los Alamos National Laboratory. She is also part of the ARM Research Facility's Aerosol Measurement Science Group.
An AAAR member since 2006, Aiken served the organization as a co-chair of the Atmospheric Aerosol Working Group in 2010 and as the Early Career Committee Chair for the past two years. In her new role, she will oversee abstract submissions for presentation to the Instrumentation Working Group. The group focuses on new measurement techniques, instrument design, and analytical methods.
"I am honored to be elected to the position of Instrumentation Working Group Chair for AAAR," Aiken says. "I have really enjoyed being the Early Career Committee Chair over the last two years, and I look forward to continuing to serve AAAR on the Technical Program Committee.
"AAAR feels like family to me after being a member for over 10 years. I will do my best to promote high-quality sessions and to organize plenaries and special symposia for the Instrumentation Working Group at the upcoming AAAR conferences."
AAAR members come from all areas of aerosol science and are dedicated to communicating technical advancements in the field. Aiken's Instrumentation Working Group will meet as part of the 36th AAAR Annual Conference from October 16 to 20 in Raleigh, North Carolina. In September 2018, AAAR will host the International Aerosol Conference in St. Louis, Missouri. That conference meets every four years and will be back in the United States for the first time since 2006.
# # #
The ARM Climate Research Facility is a DOE Office of Science user facility. The ARM Facility is operated by nine DOE national laboratories, including Los Alamos National Laboratory.