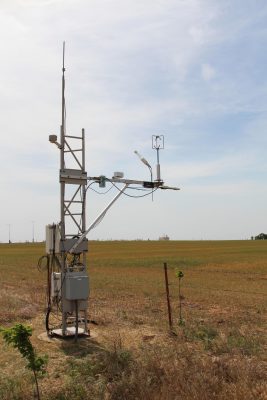 The August 2017 issue of Eos (Earth & Space Science News) featured FLUXNET2015, a data set that includes measurements from the Atmospheric Radiation Measurement (ARM) Facility.
The FLUXNET data series contains records of carbon, energy, and water fluxes—or their exchanges between land and atmosphere—across continents.
"FLUXNET2015 is a major step forward since the original data sets were released in 2000 and 2007," said Margaret Torn, article co-author and a senior scientist at Lawrence Berkeley National Laboratory. "This version has more sophisticated quality assurance, quality control, and uncertainty quantification, and much longer time series."
According to the article, FLUXNET2015 "includes more than 1,500 site years of data at 30-minute intervals from 212 sites." One of those sites is the ARM Facility's Southern Great Plains (SGP) atmospheric observatory, which is affiliated with the AmeriFlux regional flux network.
The main SGP flux tower record dates from 2003 and supplies measurements of carbon, energy, and water fluxes. It is one of the longest-running agricultural sites in the data release and is colocated with the richest set of atmospheric observations. FLUXNET2015 also includes SGP burn and control site data from 2005 to 2006.
The latest data set delivers more regional data from the Americas, Asia, Europe, and Oceania. Unlike its predecessors in the FLUXNET series, FLUXNET2015 is available to all interested users.
# # #
The ARM Climate Research Facility is a DOE Office of Science user facility. The ARM Facility is operated by nine DOE national laboratories.