Day dreaming of an island vacation or wanting to see how marine stratocumulus cloud data are collected? Let the third ARM virtual tour take you around the Eastern North Atlantic (ENA) atmospheric observatory to experience this site in the Azores archipelago in the middle of the Atlantic Ocean.

Almost as good as being there, the ENA tour gives you a detailed panorama of the youngest ARM Climate Research Facility observatory, which opened in September 2013 on Graciosa Island off the coast of Portugal. With instrumentation similar to the Southern Great Plains and North Slope of Alaska observatories, the ENA provides a rare, long-term data set about the response of low clouds to changes in atmospheric greenhouse gases and aerosols—a major source of uncertainty in global and regional climate models.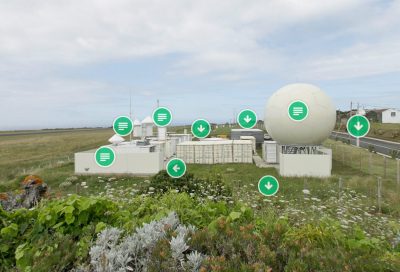 To start, click "Launch Tour" to get a slowly revolving 360-degree view of the entire ENA site. Clicking arrows provides a closer look at each instrument location. Three photos were taken on location in July 2016 with a special camera and fish-eye lens on a tripod from strategic places around the site. When "stitched" together using computer software provided by Vivid Learning Systems, these images give a 360-degree view of each instrument.
Where indoor facilities exist, a click of the mouse takes you inside for a 360-degree view of the interior. Each view enables you to see exactly what you would find at the site. Viewing the instrumentation and work spaces allows visiting scientists to determine if additional instruments will be needed for their specific research campaign and the space available to house them.
The ENA virtual tour completes the suite of three tours for the fixed atmospheric observatories of the ARM Facility. Visit all the virtual tours now.
# # #
The ARM Climate Research Facility is a national scientific user facility funded through the U.S. Department of Energy's Office of Science. The ARM Facility is operated by nine Department of Energy national laboratories.