U.S. Department of Energy-funded researchers recognized at AGU Fall Meeting
Susan van den Heever and Christian Jakob, two veteran Atmospheric Radiation Measurement (ARM) Climate Research Facility and Atmospheric System Research (ASR)-affiliated atmospheric scientists, have had their achievements recognized with Ascent Awards, which will be presented at the American Geophysical Union (AGU) Honors Tribute, to be held December 14 at the Fall Meeting in San Francisco. Five Ascent Awards have been awarded this year, but van den Heever and Jakob are of special note to U.S. Department of Energy (DOE) because, in Jakob's words, "ARM and ASR were instrumental to my career in so many ways."
Established in 2012, the Atmospheric Science Ascent Award recognizes exceptional mid-career researchers in the atmospheric and climate sciences. "Mid-career" is defined as between 8 and 20 years post-PhD or the scientist's highest degree.
Both Jakob and van den Heever have built their careers across the world from their home countries. Jakob grew up in Germany but now lives and works in Melbourne, Australia, while van den Heever hails from South Africa and now calls Colorado home. Their career trajectories perfectly demonstrate that climate science is a truly global endeavor.
ARM Lures a German Down Under
Christian Jakob is a professor of climate modeling at Monash University's School of Earth, Atmosphere, and Environment. He is interested in how scientists around the world can work together to improve current models. He has worked for the European Centre for Medium-Range Weather Forecasts (ECWMF), the Australian Bureau of Meteorology (BOM), and been funded by the DOE.
Jakob's close relationship with the ARM Facility began in the mid-1990s, when as a model developer at ECWMF he used ARM data to evaluate their model's new cloud representation and parameterization. ARM's data gave him the first information about the vertical structure of clouds and resulted in the first paper to use radar data to evaluate a global climate model. In this era, he also became a regular at the ARM Science Team Meetings representing the numerical weather prediction community and its interest in using ARM data. This relationship is still going strong: There are now ARM/ASR-funded fellows at several modeling centers, including ECMWF.
In 2001, Jakob broadened his horizons beyond modeling by taking an ARM-funded job at the BOM to use data collected at the then-newest ARM site in Darwin. Worried about professional isolation, he only accepted the position because he knew he would remain well connected to the ARM community, and therefore cutting-edge atmospheric science. He and his family literally made the move "Down Under" due to ARM, which as he says "did not just affect my career, but my entire life."
A few years later, Jakob co-led the 2006 Tropical Warm Pool – International Cloud Experiment (TWP-ICE), the largest ARM/ASR-funded field campaign in the tropics. In 2007, he left the BOM for Monash University, where he has had two ASR grants as a lead principal investigator since. He remains deeply involved in the ASR/ARM community: as a quarter of his publications prove.
Jakob is currently Deputy Director of the Australian Research Council's Centre of Excellence for Climate System Science, where he studies the effects of tropical convection on Australia's climate. He has studied the weather in some of the only places in Australia where rainfall rates have recently been increasing, rather than decreasing. He is also looking at the little-understood Southern Ocean, and pushing for a comprehensive temporary cloud measurement station on sub-Antarctic Macquarie Island.
"Some people believe that the clouds over the Southern Ocean are major drivers in the uncertainty surrounding climate change predictions," Jakob says. "The other reason I'm interested in it is just curiosity—we know so little about that area."
Jakob has also helped to standardize the 'language' with which climate scientists in Australia communicate. He has helped develop and popularize one climate model for the university community, BOM, and CSIRO (Commonwealth Scientific and Industrial Research Organization). The result has been the establishment of the Australian Community Climate and Earth-System Simulator, or ACCESS, which will enable climate change scenarios over a 50-plus-year horizon.
Jakob is also involved in the Centre for Water-Sensitive Cities, making Melbourne more resilient to changing rainfall rates, the urban heat island effect, and most importantly, the uncertainties in our predictions.
Not Your Typical TV Weather Man
As a boy in Germany, Jakob was interested in the weather as an aspect of nature, but not as a career. His mother, however, dreamed of his becoming a TV meteorology presenter. He chose a different route, gradually working his way into the very heart of the atmospheric sciences. He had a few surprises and wake-up calls along the way.
"After my university education, I was a research scientist in charge of modelling clouds and tropical convection, and in that entire time I managed to go without having ever seen what tropical convection looked like. I've learned from that. Now I always make sure that my students get out and be part of an experiment to measure what they're actually studying."
Today, Jakob can no doubt honestly say that he has exceeded his mother's hopes, though in somewhat altered form.
From the Witwatersrand to the Rockies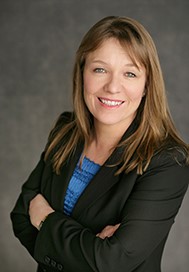 Susan van den Heever is Montfort professor in the Department of Atmospheric Science at Colorado State University, Fort Collins. She is a seasoned ASR principal investigator interested in all aspects of cloud and aerosol processes.
Van den Heever initially studied math and physical geography at the University of the Witwatersrand (WITS) in Johannesburg, South Africa. She then worked as a research associate at WITS focusing on topics like El Niño–Southern Oscillation (ENSO), southern African drought, and tropical-temperature troughs before coming to Colorado State University (CSU) to earn her PhD in 2001. Van den Heever spent two years as a postdoctoral student and several years as a research scientist at CSU before joining the faculty in 2008.
Now, Professor van den Heever leads her own research group that focuses on cloud physics, aerosol indirect effects, storm and mesoscale dynamics, and convective organization. They use cloud-resolving numerical models—in particular, the open-source Regional Atmospheric Modeling System (RAMS) that they developed and maintain. Her group also uses satellite and radar data in their research, which has been sponsored by DOE, National Science Foundation (NSF), National Aeronautics and Space Administration (NASA), U.S. Department of Defense, and U.S. Office of Naval Research.
Van den Heever's career has been deeply influenced by both the ARM Facility and ASR Program: "The unique observational capabilities of the ARM sites, combined with the ASR's support of numerical modeling, have allowed me to develop powerful, multi-faceted research tools to investigate cloud and aerosol processes."
ASR support has facilitated her group's capabilities to conduct in-depth and accurate model evaluations as well as test hypotheses arising from simulations. Van der Heever says, "ASR has improved my access to observational data, enhanced my interest in observational analysis, and made me a better numerical modeler."
Van den Heever has participated in two ASR projects so far—first as principal investigator, then as co-principal investigator. In the Midlatitude Continental Convective Clouds Experiment (MC3E), van den Heever was part of a CSU collaboration that examined the impacts of aerosols on mesoscale convective systems, pollution at different altitudes, and latent heat in these storm systems. This project used measurements from the field campaign as well as from ARM's Southern Great Plains site and numerical modeling. In the second ASR project, van den Heever is helping the principal investigator, CSU Professor Scott Denning, examine how surface fluxes are represented in numerical models and how these affect global climate model simulations.
Van der Heever will return to the field in 2018 as co-principal investigator on Cloud, Aerosol, and Complex Terrain Interactions (CACTI), an ARM field campaign in Argentina led by Adam Varble of the University of Utah. CACTI will examine how environmental characteristics impact various convective cloud types, and the role that these properties play in the initiation, upscale growth, and organization of larger mesoscale systems. Involving many ASR scientists, CACTI will extend MC3E by once more providing state-of-the-art, co-located observations of a wide range of convective storms developing under different conditions in a different region.
As van der Heever notes, "The range of case studies that we will observe will again provide an exceptional testbed for numerical models across the scales, ensuring the integrity of systems necessary to future weather and climate predictions."
Back in Colorado, an der Heever and her students are striving to answer questions such as "What impacts do smoke and dust produced in central America have on severe storms over the Midwestern US?", "How do cloud microphysical-dynamical feedbacks influence storm structure and rain and hail production?", "How deep are cold pools and what processes cause their dissipation?" and "How can we better represent convective and microphysical processes in cloud models?"
As van den Heever states, "The numerous DOE ASR-supported field campaigns produce suites of co-located measurements of the highest quality that allow us to probe for the answers to such questions."
A Record of Achievement and Mentoring
Van der Heever has won numerous honors before her current AGU Ascent Award, including from NASA and CSU. Like Christian Jakob, she's also busy training the next generation of atmospheric scientists.
"I'm passionate about mentoring and teaching, and love interacting with the exceptional young scientists we have in our field," says van den Heever, who has won numerous teaching and mentoring awards as well.
At CSU, she teaches cloud physics, cloud dynamics, mesoscale and synoptic meteorology, and mesoscale modeling, and has co-authored a book, Storm and Cloud Dynamics. Even though her group is primarily a modeling group, van der Heever and her research group have participated in several field campaigns including Cirrus Regional Study of Tropical Anvils and Cirrus Layers -Florida Area Cirrus Experiment (CRYSTAL-FACE) and HS3 for NASA and BAMEX and ICE-T for NSF, and look forward to taking part in CACTI. Van der Heever is also the principal investigator for the C3LOUD-Ex campaign running now until next spring to investigate updraft and cold pool characteristics of convective storms over northeast Colorado. The campaign is using radiosondes, state-of-the-art unmanned aerial vehicle technology, and radar data from the CSU-CHILL facility.
ARM and ASR look forward to continuing our productive relationship with Professor van den Heever as her career progresses.
# # #
The ARM Climate Research Facility is a national scientific user facility funded through the U.S. Department of Energy's Office of Science. The ARM Facility is operated by nine Department of Energy national laboratories.