Editor's note (September 1, 2021): Ka-Band ARM Zenith Radar Active Remote Sensing of CLouds (KAZRARSCL) data from January through June 2021 are now available for the Southern Great Plains and North Slope of Alaska atmospheric observatories. The data announcement below was originally published June 28, 2021.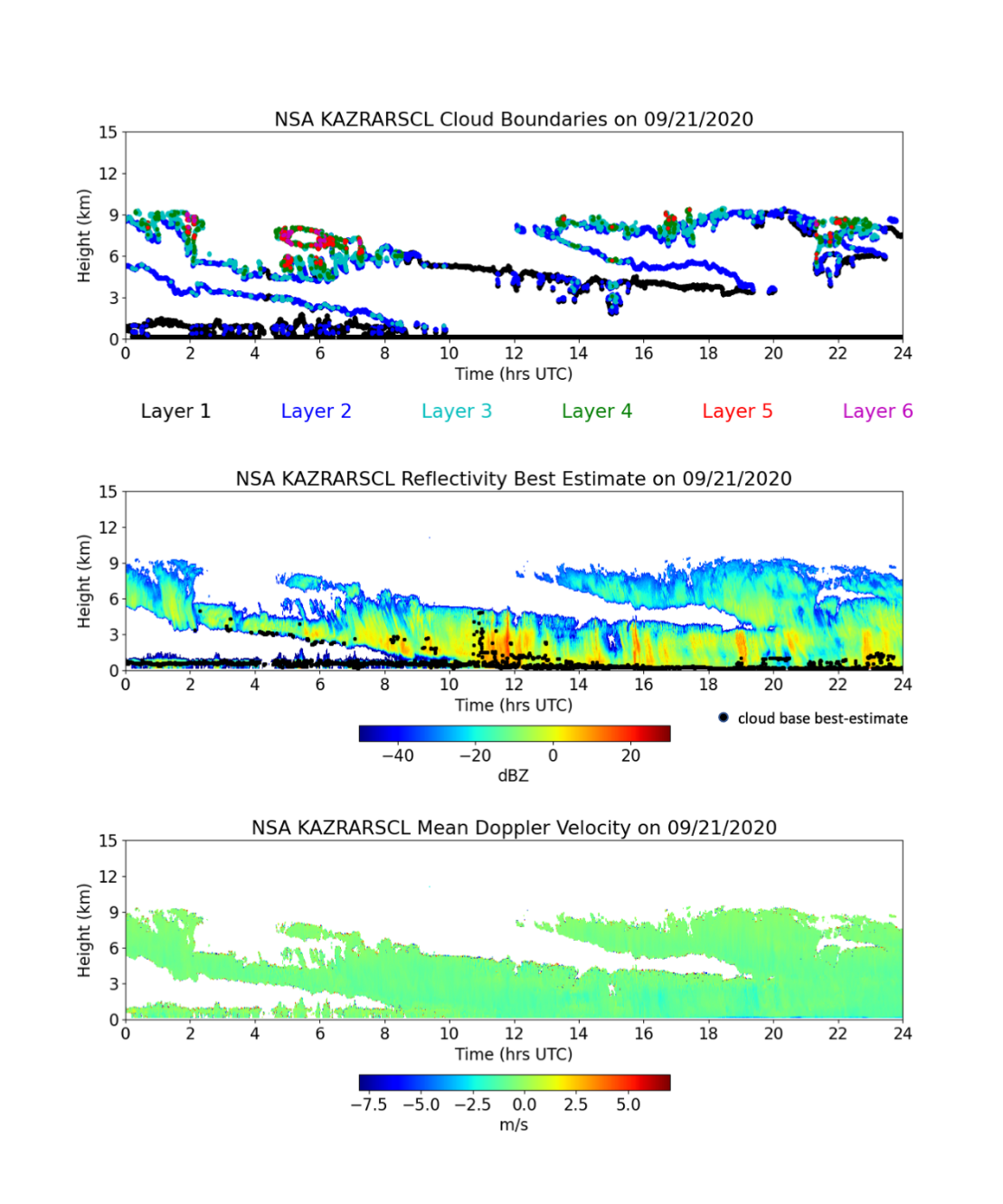 The Atmospheric Radiation Measurement (ARM) user facility has resumed production of the Ka-Band ARM Zenith Radar Active Remote Sensing of CLouds (KAZRARSCL) value-added product for the Southern Great Plains (SGP) and North Slope of Alaska (NSA) atmospheric observatories.
From late November 2019 to May 2020, KAZRARSCL was not in production for the SGP and NSA because of a major format change in the input KAZR datastream. Previous releases are unaffected by this change.
KAZRARSCL helps scientists more easily use corrected observations from ARM vertically pointing cloud radars, as well as hydrometeor masks and cloud boundaries.
The new KAZRARSCL releases cover the period from late October 2019 through December 2020 at the SGP and NSA.
KAZRARSCL combines KAZR, micropulse lidar, ceilometer, sounding, and microwave radiometer input observations to produce two datastreams. The arsclkazr1kollias datastream provides best-estimate radar reflectivities, mean Doppler velocities, spectral widths, and a significant detection mask in time and height. This datastream also provides up to 10 layers of cloud boundaries (cloud base and cloud top) and best-estimate cloud base. The smaller arsclkazrbnd1kollias datastream provides only cloud boundaries and cloud base.
This product is available in daily files. It provides vertical profiles every four seconds from approximately 160 meters above ground level up to 18 kilometers, with 30-meter height resolution.
The new KAZRARSCL data from the SGP and NSA are available to use now. Data from January through April 2021 will be available shortly for both observatories. Soon, data will be regularly available within one to two months of the current date.
More information about KAZRARSCL can be found on its web page. To ask questions, provide feedback, or report data problems, please contact Karen Johnson or Scott Giangrande.
Access the data in the ARM Data Center. (Go here to create an account to download the data.)
To cite the KAZRARSCL data, please use doi:10.5439/1393437 for arsclkazr1kollias and doi:10.5439/1393438 for arsclkazrbnd1kollias.
Check out a recent announcement about the resumption of KAZRARSCL production data for the Eastern North Atlantic observatory and Oliktok Point, Alaska.
# # #
ARM is a DOE Office of Science user facility operated by nine DOE national laboratories.