Editor's note: Jessie Creamean, a research scientist at Colorado State University, is an ARM mentor for the collection and analysis of ice-nucleating particles. With instrument funding from ARM and science funding from the U.S. Department of Energy's Atmospheric System Research (ASR), Creamean participated in the Multidisciplinary Drifting Observatory for the Study of Arctic Climate (MOSAiC) expedition. Creamean provided the following blog post.
Wow, has it really been almost two years since the end of the biggest polar expedition in history? MOSAiC involved an icebreaker with an international, interdisciplinary group of scientists from all walks of life purposely freezing into the Arctic sea ice for a full year, from September 2019 to October 2020. With all the unprecedented challenges working in the central Arctic, and during a pandemic to boot, it was a successfully executed expedition overall. But what about the after-party? How are these scientists supposed to collaborate effectively to do some cool science together, given the ongoing pandemic? As calendars filled with virtual meetings and workshops, the burnout of talking to a computer screen all day became an insidiously daunting task.
But finally, after over two years of not being able to meet in person, scientists from the MOSAiC community (including myself, thankfully!) came together at last for a week of in-person interactions, intimate discussions, and a prolific fostering of scientific collaboration focusing on central Arctic coupled process studies. In situ and remote sensing observationalists and modelers—experts who study the atmosphere, sea ice, ocean, ecosystem, and biogeochemical processes—gathered for the International MOSAiC Science Conference/Workshop at the Alfred Wegener Institute in Potsdam, Germany, in late April 2022. I was thrilled to see my friends and colleagues—many of whom I spent months with isolated from the rest of the world on a boat in the central Arctic—again in the flesh.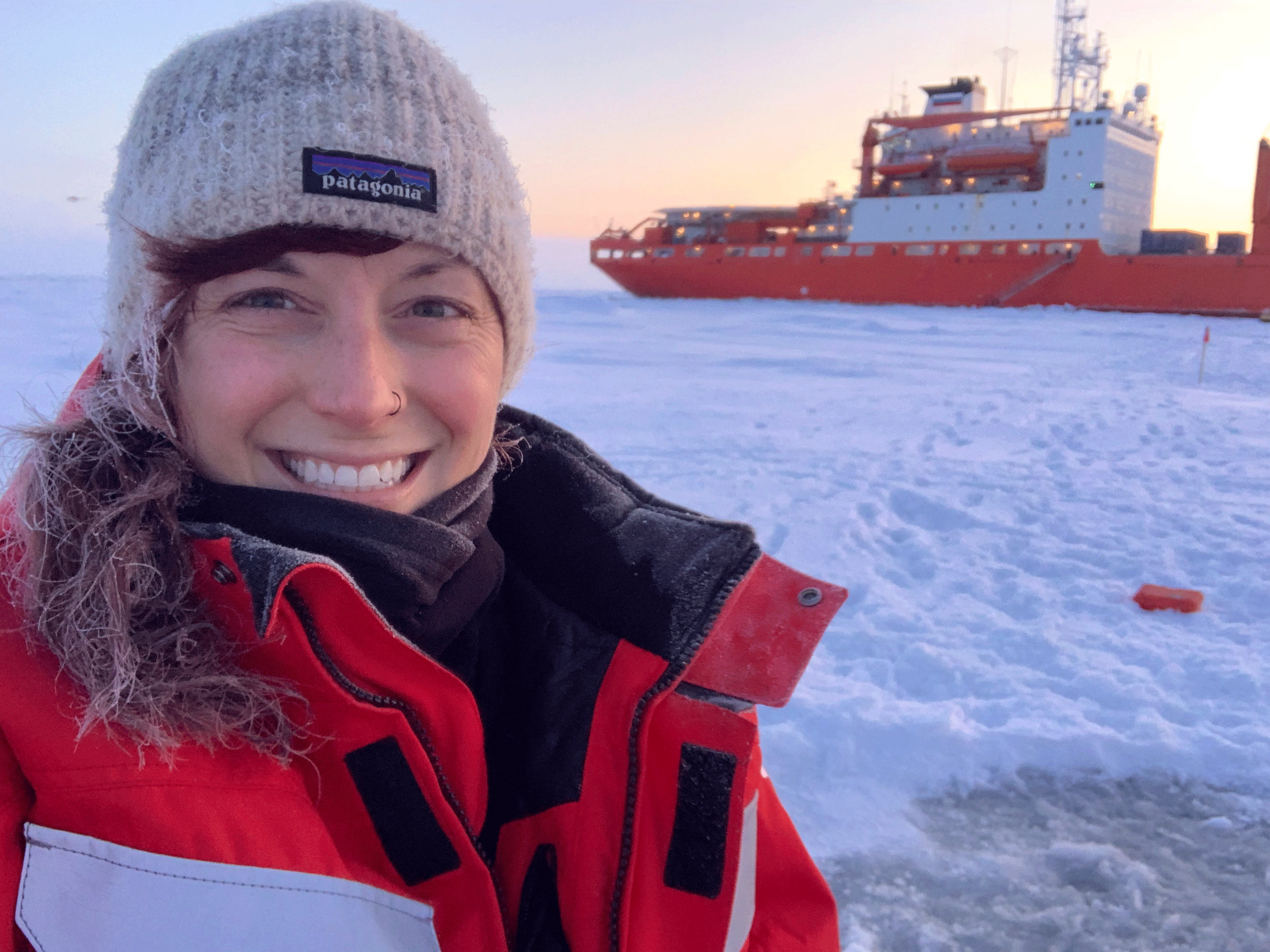 The sessions were interactive and cross-disciplinary, and there was a substantial early career scientist focus, which was incredible! I presented my results on the first full annual cycle measurements of ice-nucleating particles in the Arctic, which appear in a manuscript submitted to Nature Communications, funded by ARM and ASR. (Editor's note: This paper has since been accepted and published.) In fact, I listened in on many presentations that included ARM observations from MOSAiC. It was great to see how much use the ARM data are getting after such an extraordinary observational effort!
Not only was the meeting well organized, but things happened outside the scheduled activities that you can't do online—holding side conversations, discussing stimulating, ad hoc ideas and building new collaborations during the allotted "flex time," and having a beer or dinner with your colleagues, old and new. I was reminded of just how important such things are during meetings.
I left the 2022 MOSAiC scientific conference feeling refreshed, exuberant, and motivated to continue existing collaborative studies and build on new ones established in Potsdam. I have a team of collaborators and students working on my MOSAiC projects, and now, I have new and exciting ideas to pursue with them. I am guessing I am not the only attendee who feels this way. I could look around while there, during the sessions and the coffee breaks, and see interesting discussions and future scientific partnerships manifest.
The first in-person MOSAiC meeting was such a success. I look forward to the next one in Boulder, Colorado, in early 2023 to continue down the path of cool central Arctic science!