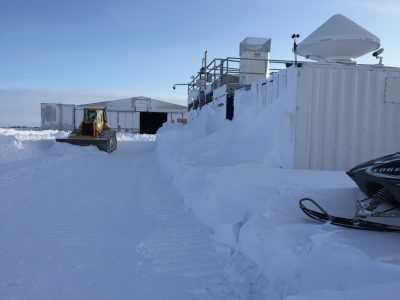 A blizzard packing 60 miles per hour (mph) wind gusts on January 5 knocked out power to the third ARM mobile facility (AMF3) deployed at Oliktok Point, Alaska, shutting down data collection for several days.
In anticipation of high winds, site operators secured sensitive instruments the afternoon of January 4. Power at the AMF3 went down at 5:29 a.m. Alaska time (9:29 a.m. Eastern) the morning of the storm. As soon as travel restrictions were lifted, AMF3 operators returned to the site to start the backup generator, repair the primary power, and bring instrumentation back on line.
The AMF3 data system came back up at 7:45 a.m. Alaska time (11:45 a.m. Eastern) on January 7. The AMF3 observers continued bringing up instruments on January 8. Most of the instruments were back to normal as of 8:44 a.m. Alaska time (12:44 p.m. Eastern), with the exception of the Raman lidar system and the Aerosol Observing System (AOS), which are more sensitive and take longer to restart after cold temperatures.
# # #
The ARM Climate Research Facility is a national scientific user facility funded through the U.S. Department of Energy's Office of Science. The ARM Facility is operated by nine Department of Energy national laboratories.